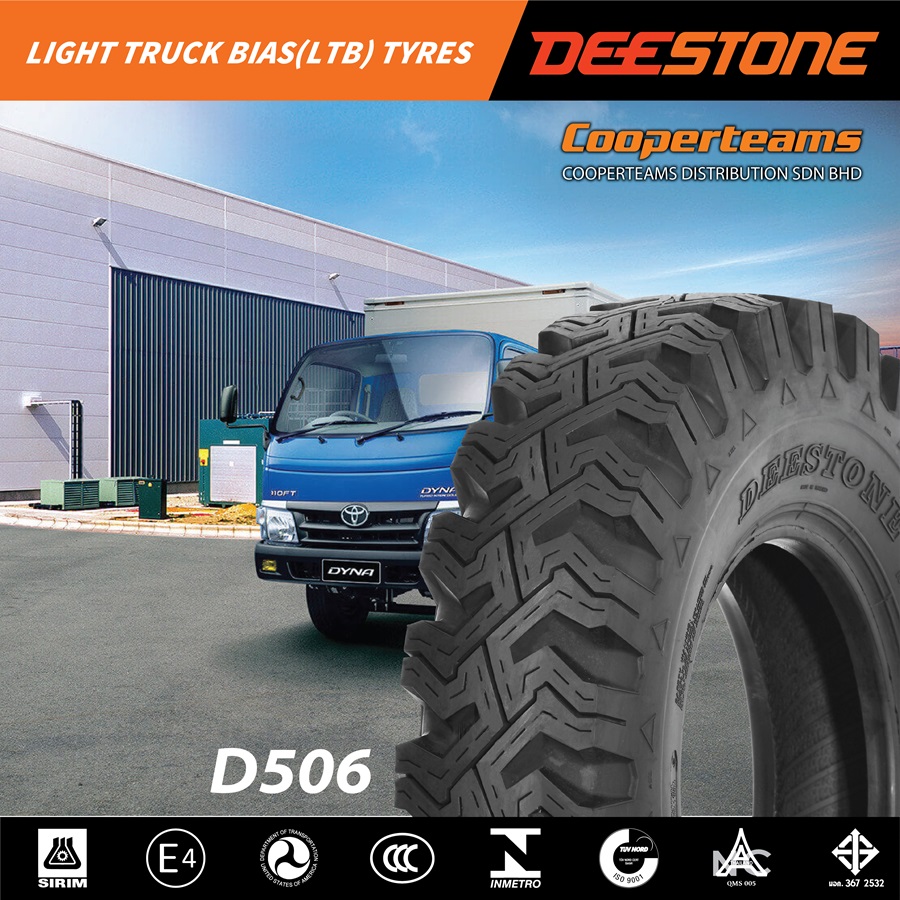 Deestone D506 7.50-16 & 7.00-16 Light Truck Bias Tyres
The Deestone D506 light truck bias (LTB) tyre keeps your business moving forward by ensuring fleet vehicles such as Isuzu ELF, Hino 300 and Toyota DYNA are equipped with the best choice of durable truck tyres for light-duty transportation services across West Malaysia.     
The D506 supplied by Deestone light truck tyre wholesaler, Cooperteams Distribution offers a range of cost-effective 7.50-16 and 7.00-16 LTB tyres combining aggressive lug tread design with durable tyre construction to deliver reliable performance both on and off road.
Tread Performance
The Deestone D506 features an aggressive lug pattern with specially-designed tread elements that ensure excellent grip both on and off road, while its advanced tread compound formula minimizes wear as well as abrasions for improved mileage performance.
Tyre Durability
The Deestone D506 integrates strong reinforced carcass construction which enables greater cargo-carrying capability for handling large loads and utilizes durable tyre compound to offer improved resistance against damages from punctures, impacts and cuts.    
Popular Sizes
7.50-16 14PR DEESTONE D506 LUG
7.00-16 12PR DEESTONE D506 LUG
Malaysia's One Stop Tyre Solution
Deestone D506 is available from Cooperteams Distribution, an authorized Malaysia Deestone tyre distributor based in Shah Alam, Selangor, West Malaysia. We distribute and supply the full range of Deestone tyres throughout central West Malaysia including Kuala Lumpur and Selangor; southern West Malaysia including Johor, Negeri Sembilan and Melaka (Malacca); northern West Malaysia including Perak, Kedah and Pulau Pinang (Penang); and eastern West Malaysia including Pahang, Kelantan and Terengganu:
Deestone passenger car radial (PCR) tyres
Deestone ultra-high performance (UHP) tyres
Deestone SUV/4x4 tyres
Deestone commercial van/ultra-light truck (ULT) tyres
Deestone light truck (LT) tyres
Deestone truck & bus radial (TBR) tyres
Deestone farm & agricultural implement off-the-road (OTR) tyres
Deestone forklift/tractor/industrial off-the-road (OTR) tyres
Deestone construction/earthmoving off-the-road (OTR) tyres
Deestone ATV, golf cart/buggy, go cart & wheel-barrow specialty off-the-road (OTR) tyres
Browse our Products or Contact us for more details on Deestone products.
About Deestone
Deestone was founded in Thailand in 1977 and is today, the country's largest Thai-owned tyre production facility with international distribution in more than 120 countries worldwide. Deestone manufactures a wide segment of quality tyres to meet market-specific requirements with high production standards and global certifications including ISO, DOT, E-mark, TUV NORD, SIRIM, MS and more.
Links
https://www.deestone.com/Tyre-Search/Bias/ON-THE-ROAD/LIGHT-TRUCK/D506.aspx
Size Compatibility
7.50-16 14PR DEESTONE D506 LUG
Hino 300 Series ToughPlus W04D-TR (WU342R-HKMTJD3)
Hino 300 Series XZU720Power / XZU730Power
Isuzu ELF NPS81 / ELF NQR71 BUS
Isuzu ELF NMR71-NMR771 / 771L / 71HD5.8 / 771HD6.1
Mahindra Furio 7 HD Cargo / Cruzio BS6
Mitsubishi Fuso Canter FE85PG6SRDG1
Toyota DYNA Wide Cab 400SL / 400L
Toyota DYNA 130HT / 110ET / 130XT / 130XT Jumbo
7.00-16 12PR DEESTONE D506 LUG
Dong Feng Captain Cummins EQ1063S / EQ1063L
Foton Aumark BJ1041/BJ1059XL Light Commercial Vehicle
Hyundai County 7m Diesel Standard/Long Body
Inokom AD3 Light Truck with Extra-Long Wheelbase
Isuzu N-SERIES NKR NKR55UEEH / NPR NPR66ULH / NPR66UPH
Isuzu N-SERIES NPR NPR66UPL
Mitsubishi Fuso Canter FE83PE6SRDG1 / FE83PG6SRDG1
Toyota DYNA Regular Cab 250 / 200
Toyota DYNA 110FT
* Always refer to your vehicle manual for specifications in your region