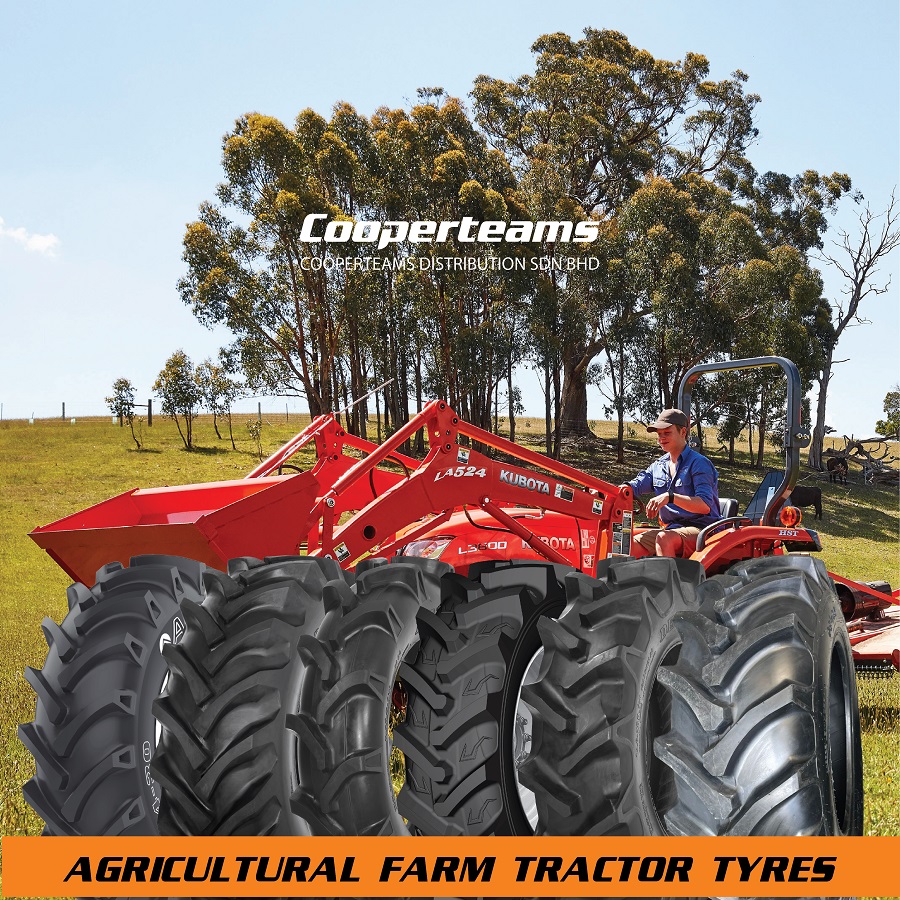 The Best Agriculture Farm Tyre for the Job
From ploughing fields to planting crops, the quintessential farm utility tractor from agricultural equipment brands such as John Deere, Kubota and New Holland is undoubtably the lifeblood of daily farming operations due to their versatility at performing tasks in the field.     
Choosing the best agriculture farm tyre for the job plays a critical role in not only improving fuel and soil management but also allows you to optimize operational uptime – ensuring your tractor remains productive to keep your agrobusiness on the track to profitability.   
Farm Tractor Tyres
Tyres designed for tractors operating in soft, muddy farming conditions typically have deep angled lugs with key features that emphasize traction efficiency, self-cleaning capability and robust construction in order to facilitate better yield production.           
Choose the right tractor tyre for your agriculture business needs from our cost-effective range of agricultural (Ag) farm tyres available in Malaysia:
ASCENSO TDB120
DEESTONE D312E / D312
DEESTONE D413
DEESTONE D340
DEESTONE D321
MEGASTAR MS323 and more
Malaysia's One Stop Tyre Solution
A wide range of agricultural tyres for farm tractors are available from Cooperteams Distribution, a Malaysia tyre distributor based in Shah Alam, Selangor, West Malaysia. We distribute and supply tyres throughout central West Malaysia including Kuala Lumpur and Selangor; southern West Malaysia including Johor, Negeri Sembilan and Melaka (Malacca); northern West Malaysia including Perak, Kedah and Pulau Pinang (Penang); and eastern West Malaysia including Pahang, Kelantan and Terengganu.
Browse our Products or Contact us for more details.
Sizes
ASCENSO TDB120
8-16 Agriculture Farm Tyre
8.3-20 Agriculture Farm Tyre
8.3-24 Agriculture Farm Tyre
9.5-24 Agriculture Farm Tyre
11.2-24 Agriculture Farm Tyre
12.4-24 Agriculture Farm Tyre
13.6-24 Agriculture Farm Tyre
14.9-24 Agriculture Farm Tyre
16.9-24 Agriculture Farm Tyre
16.9-28 Agriculture Farm Tyre
16.9-30 Agriculture Farm Tyre
16.9-34 Agriculture Farm Tyre
18.4-30 Agriculture Farm Tyre
18.4-34 Agriculture Farm Tyre
DEESTONE D312E
16.9-30 Agriculture Farm Tyre
18.4-30 Agriculture Farm Tyre
18.4-34 Agriculture Farm Tyre
DEESTONE D312
11.2-24 Agriculture Farm Tyre
12.4-24 Agriculture Farm Tyre
14.9-24 Agriculture Farm Tyre
DEESTONE D413
5-12 Agriculture Farm Tyre
7-16 Agriculture Farm Tyre
8-16 Agriculture Farm Tyre
8-18 Agriculture Farm Tyre
DEESTONE D340
12.4-24 Agriculture Farm Tyre
DEESTONE D321
11.2-24 Agriculture Farm Tyre
12.4-24 Agriculture Farm Tyre
13.6-26 Agriculture Farm Tyre
MEGASTAR MS323
8.3-24 Agriculture Farm Tyre
11.2-24 Agriculture Farm Tyre
12.4-24 Agriculture Farm Tyre
16.9-30 Agriculture Farm Tyre
18.4-34 Agriculture Farm Tyre