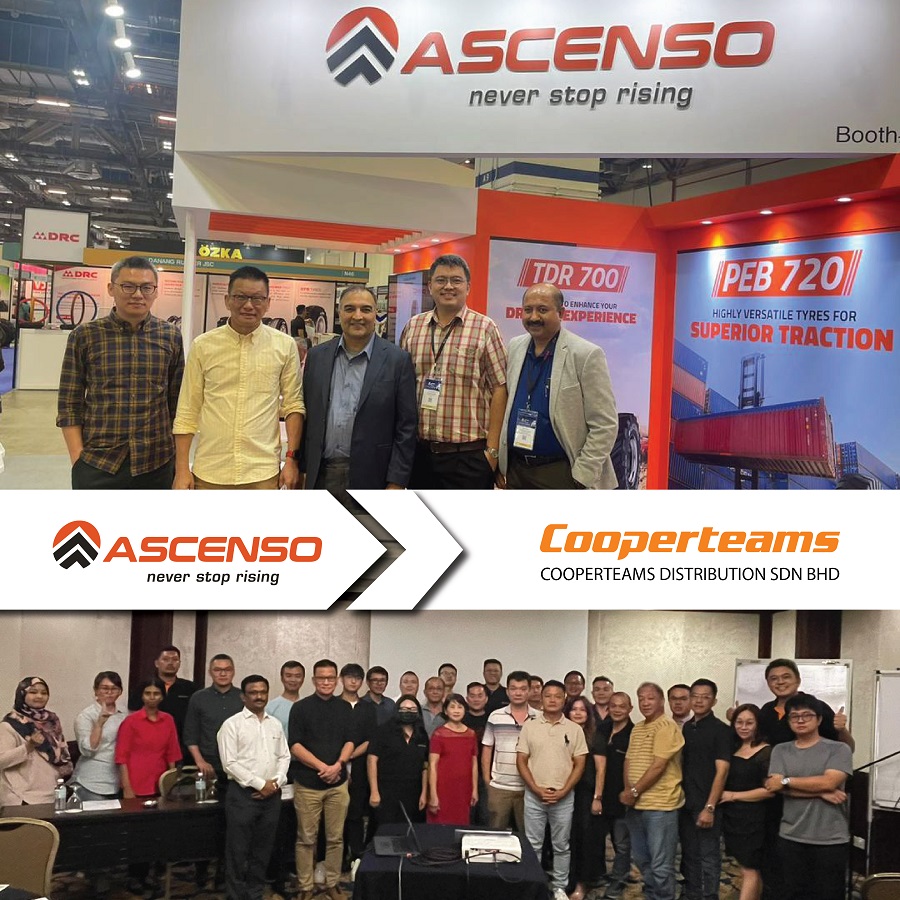 Rising Together with Ascenso Off-Highway/OTR Tyres
As advancing economies continue to spur demand in global off-the-road (OTR) tyre markets, Cooperteams Distribution (SUNLUN Group) has been steadily expanding upon its strategic collaboration with Ascenso, one of India's fastest-growing off-highway tyre brands. 
From agricultural tractor tyres to backhoe loader tyres, our active involvement in Malaysia's OTR tyre supply-chain provides the ideal platform to bolster Ascenso brand partnership by continuously building strong engagement with stakeholders all along the value chain.
Attendance at TyreXpo Asia 2023 in Singapore between 8th–10th March 2023 enabled our delegation headed by Managing Director, Mr. Philip Lau to foster constructive discourse with Ascenso's Deputy Chief Executive Officer, Mr. Dhaval Nanavati and his corporate team.
Following this, we had the privilege of inviting our esteemed tyre dealer network to the jointly organized Ascenso Product Seminar in Malaysia on 11th May 2023 during which Ascenso's technical team showcased vast expertise associated with off-highway/OTR tyre industry.
Malaysia's One Stop Tyre Solution
Ascenso tyres are available from Cooperteams Distribution, a Malaysia tyre distributor based in Shah Alam, Selangor, West Malaysia. We distribute and supply Ascenso tyres throughout central West Malaysia including Kuala Lumpur and Selangor; southern West Malaysia including Johor, Negeri Sembilan and Melaka (Malacca); northern West Malaysia including Perak, Kedah and Pulau Pinang (Penang); and eastern West Malaysia including Pahang, Kelantan and Terengganu:
Ascenso agriculture tractor drive bias tyres
Ascenso industrial/construction skid steer bias tyres
Ascenso industrial/construction backhoe loader bias tyres
Ascenso industrial/construction paving & compactor bias tyres
Browse our Products or Contact us for more details on Ascenso products.
About Ascenso
Ascenso is an off-highway tyre brand developed by Mahansaria Tyres Private Limited (MTPL) under renowned Mahansaria Group, India. Backed by state-of-the-art manufacturing facility in Panoli, Gujarat as well as distribution subsidiaries in Europe and North America, Ascenso offers a wide range of agriculture, industrial & construction, earth mover, material handling and agro-forestry tyres currently marketed in more than 85 countries worldwide. 
Links
https://ascensotyres.com/
https://www.facebook.com/AscensoTyres/videos/tyrexpo-asia-2023-began-wit...
https://www.facebook.com/AscensoTyres/videos/we-had-an-incredible-time-c...