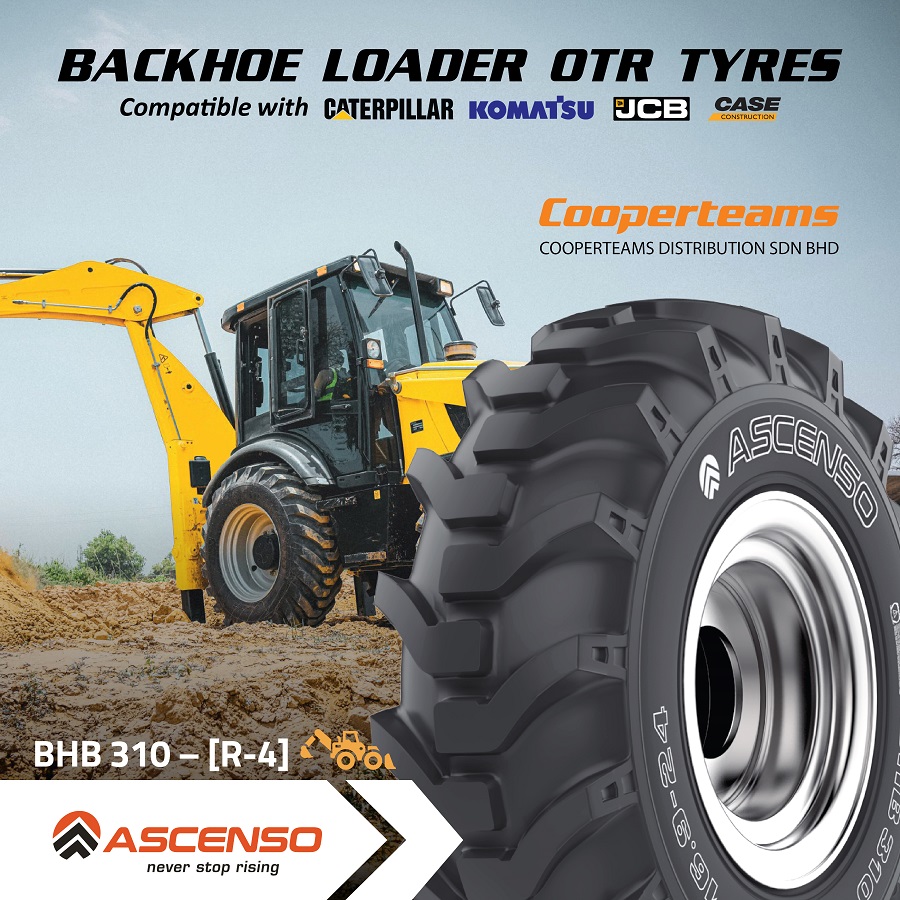 Ascenso BHB310 Backhoe Loader R4 OTR Tyres
Boost productivity at your jobsite with Ascenso BHB310, the dependable choice of industrial R4 off-the-road (OTR) tyres providing robust service reliability for backhoe loaders from heavy machinery manufacturers including Caterpillar, Komatsu, JCB, CASE and John Deere.
Whether digging trenches in construction projects or moving loads around the farmstead, the BHB310 bias backhoe loader tyre from Cooperteams Distribution offer business operators in West Malaysia with versatile wide lugs and tough construction to accomplish the task.   
Robust Traction
The Ascenso BHB310 delivers rugged traction with robust R4 industrial tread pattern featuring characteristic wide lugs which optimize contact patch distribution for better stability as well as enabling efficient self-cleaning to resist slippage and premature wear.
Tough Reliability
The Ascenso BHB310 improves off-the-road service durability with tough nylon casing design which provides reliable load-carrying capability and protection against failures, while its thick under tread construction reinforces resistance to cut and puncture damage.      
Available Sizes
12.5/80-18 12PR TL R4 ASCENSO BHB310
16.9-24 12PR TL R4 ASCENSO BHB310
16.9-28 12PR TL R4 ASCENSO BHB310
Malaysia's One Stop Tyre Solution
Ascenso BHB310 is available from Cooperteams Distribution, a Malaysia tyre distributor based in Shah Alam, Selangor, West Malaysia. We distribute and supply Ascenso tyres throughout central West Malaysia including Kuala Lumpur and Selangor; southern West Malaysia including Johor, Negeri Sembilan and Melaka (Malacca); northern West Malaysia including Perak, Kedah and Pulau Pinang (Penang); and eastern West Malaysia including Pahang, Kelantan and Terengganu:
Ascenso agriculture tractor drive bias tyres
Ascenso industrial/construction skid steer bias tyres
Ascenso industrial/construction backhoe loader bias tyres
Ascenso industrial/construction paving & compactor bias tyres
Browse our Products or Contact us for more details on Ascenso products.
About Ascenso
Ascenso is an off-highway tyre brand developed by Mahansaria Tyres Private Limited (MTPL) under renowned Mahansaria Group, India. Backed by state-of-the-art manufacturing facility in Panoli, Gujarat as well as distribution subsidiaries in Europe and North America, Ascenso offers a wide range of agriculture, industrial & construction, earth mover, material handling and agro-forestry tyres currently marketed in more than 85 countries worldwide. 
Links
https://ascensotyres.com/products/industrial-construction/bhb-310/
Size Compatibility
12.5/80-18 12PR TL R4 ASCENSO BHB310
CASE Backhoe Loader 580T / 580ST / 590ST
Caterpillar Backhoe Loader 426F2 / 416 / 432F2 / 424
JCB Backhoe Loader 3CX
John Deere Backhoe 315SL
Kioti Utility Tractor RX6010PC / RX6010C
Komatsu Rigid Backhoe Loader WB93R-8 / WB93R-5 / WB97R-8
Liugong Backhoe Loader 765A
Mahindra Backhoe Loader Earthmaster SX90
Manitou Backhoe Loader TLB 818S X4
Mecalac Backhoe Loader TLB880
New Holland Backhoe Loader LB90/95.B/110.B
Terex Tractor Loader Backhoe TLB840
Volvo Backhoe Loader BL70B / BL61 / BL61 Plus
16.9-24 12PR TL R4 ASCENSO BHB310
CASE Backhoe Loader 480C / Basic Tractor 680K
Caterpillar Backhoe Loader 416C / 426B
John Deere Backhoe Loader 410 / 210C / 315SG
Komatsu Backhoe Loader WB97S-5 / WB97S-2 / WB91R-5
Mecalac Backhoe Loader TLB990
New Holland Loader Backhoes B115B / LB115.B
Terex Backhoe Loader TLB990 / 970 Elite / 980 Elite
16.9-28 12PR TL R4 ASCENSO BHB310
Ace Backhoe Loader AX130 / AX124
CASE Backhoe Loader 570ST / Loader-Backhoe 680K
Caterpillar Backhoe Loader 426F2 / 432F2 / 424 / 442D
JCB Backhoe Loader 3DX XTRA / SUPER / 3CX Elite
JCB Backhoe Loader 4CX ECO / 4CX ECO SITEMASTER
John Deere Backhoe Loader 315SG / 310K
Komatsu Rigid Backhoe Loader WB93R-8 / WB93R-5 / WB97R-8
Komatsu Backhoe Loader WB97S-5 / WB97S-2
Mahindra Backhoe Loader Earthmaster SX90
Manitou Backhoe Loader TLB 818S X4
Mecalac Backhoe Loader TLB880 / TLB890
New Holland Backhoe Loader B80B / B110B / LB115.B
Terex Tractor Loader Backhoe TLB840
Volvo Backhoe Loader BL61 / BL61 Plus
* Always refer to your vehicle manual for specifications in your region