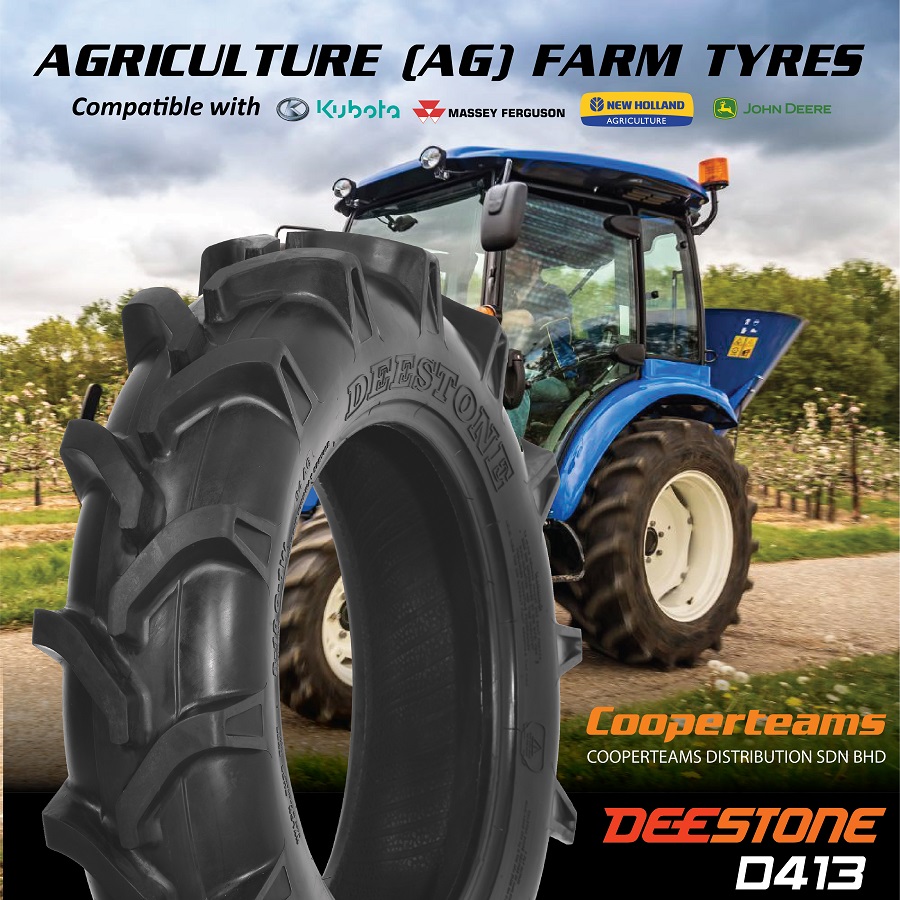 Deestone D413 Farm Tractor (Ag) Tyres
The Deestone D413 delivers a durable range of bias agricultural (Ag) farm tyres that provide agroindustry companies across West Malaysia with reliable, cost-effective tyre solutions for compact tractors and utility tractors operating in potentially wet or soft soil conditions.
Equipped with deep angled lugs and strong nylon casing, the D413 farm tractor tyre supplied by leading Malaysian tyre distributor, Cooperteams Distribution ensures optimal traction and durability for many farm tractors from Kubota, Massey Ferguson, New Holland and more.
Enhanced Traction
The Deestone D413's deep tread design enhances ground traction by combining angled lugs with optimized spacing between the lugs to effectively penetrate soil while allowing excellent self-cleaning capability for stable surface contact on wet or soft field terrain. 
Improved Protection
The Deestone D413's durable construction is comprised of strong nylon casing which improves reliability during load handling and resistance against external hazards in the field, as well as specially-designed rim guard to add protection against damage to the wheels.   
Popular Sizes
5-12 4PR TT DEESTONE D413
7-16 6PR TT DEESTONE D413
8-16 6PR TT DEESTONE D413
8-18 6PR TT DEESTONE D413
Malaysia's One Stop Tyre Solution
Deestone D413 is available from Cooperteams Distribution, an authorized Malaysia Deestone tyre distributor based in Shah Alam, Selangor, West Malaysia. We distribute and supply the full range of Deestone tyres throughout central West Malaysia including Kuala Lumpur and Selangor; southern West Malaysia including Johor, Negeri Sembilan and Melaka (Malacca); northern West Malaysia including Perak, Kedah and Pulau Pinang (Penang); and eastern West Malaysia including Pahang, Kelantan and Terengganu:
Deestone passenger car radial (PCR) tyres
Deestone ultra-high performance (UHP) tyres
Deestone SUV/4x4 tyres
Deestone commercial van/ultra-light truck (ULT) tyres
Deestone light truck (LT) tyres
Deestone truck & bus radial (TBR) tyres
Deestone farm & agricultural implement off-the-road (OTR) tyres
Deestone forklift/tractor/industrial off-the-road (OTR) tyres
Deestone construction/earthmoving off-the-road (OTR) tyres
Deestone ATV, golf cart/buggy, go cart & wheel-barrow specialty off-the-road (OTR) tyres
Browse our Products or Contact us for more details on Deestone products.
About Deestone
Deestone was founded in Thailand in 1977 and is today, the country's largest Thai-owned tyre production facility with international distribution in more than 120 countries worldwide. Deestone manufactures a wide segment of quality tyres to meet market-specific requirements with high production standards and global certifications including ISO, DOT, E-mark, TUV NORD, SIRIM, MS and more.
Links
https://www.deestone.com/Tyre-Search/Bias/OFF-THE-ROAD/TRACTOR/D413.aspx
Size Compatibility
5-12 4PR TT DEESTONE D413
CNH Industrial Blue Series SIMBA 30
John Deere Tractor 3036EN
Kubota B72 / B52
Mahindra Tractor FS204
Mitsubishi Kumiai MT1601D
New Holland Tractor Boomer TC18 / TC21D / TC24D
Shibaura SE1340
Yanmar AF114
7-16 6PR TT DEESTONE D413
Case IH D40
Hinomoto MB-1500
Kubota Tractor L3200 / L3800 / L3540
Mahindra 2538 HST/HSTCab
McKee 470
New Holland Tractor Boomer 35
Shibaura SE1340
8-16 6PR TT DEESTONE D413
Case IH D40
Ford 1200
John Deere Compact Utility Tractor 4066M / 4044R / 4066R
Kubota Tractor L4740 / L4018
Kubota Tractor B1820 / B2320
Mahindra JIVO 365 DI / 4010 HST
Massey Ferguson MF 1640 E / 1040
New Holland Tractor Boomer TC18 / TC21D / TC24D
New Holland Boomer 45D / 50D
Yanmar AF114
8-18 6PR TT DEESTONE D413
CNH Industrial Blue Series SIMBA 30
Ford 2120
Kubota B72 / B52
Mahindra YUVRAJ 215 NXT NT Tractor
Massey Ferguson MF 254 DYNATRACK 4WD / MF 5118 2WD
New Holland 2120
* Always refer to your vehicle manual for specifications in your region