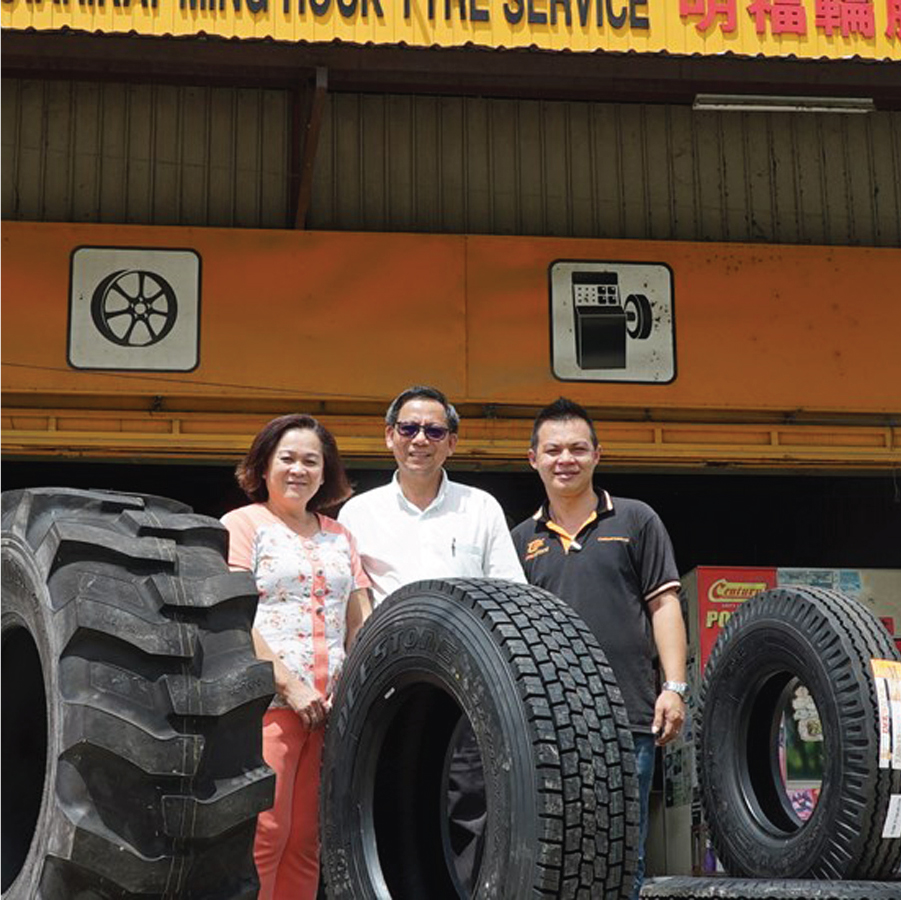 Cooperteams Distribution Gains Dealer Satisfaction for Quality
Cooperteams Distribution, the Malaysian distributor for Deestone tyres in Malaysia, has gained the dealers' confidence and satisfaction through providing quality tyres and good services.
Established by Suvit Vongsariyavanich in 1977, Deestone is a tyre manufacturer based in Om Noi, Samut Sakhon in the central region of Thailand. It is the country's largest Thai-owned tyre production facility.
The company runs five plants and subsidiaries in Samut Sakhon and Nakhon Pathom. In 2015, Deestone invested around 10 billion baht to increase the production capacity for radial tyres to more than 10 million units.
At present, Deestone has 10,000 employees and 600 dealers nationwide, and exports to more than 120 countries. It makes numerous products such as motorcycle tyres, truck and bus radial tyres, bicycle tyres, agricultural tyres, among other related items.
Deestone's superior product quality is clearly proven in the international market as it exports to more than 80 countries with the United States, Middle East and Asia as its biggest markets.
Rawang Ming Hock Tyre Service PLT, one of the largest tyre shops in Rawang, provides a wide range of tyres for truck users. Managing Director Mah Swee Hock said the company started selling Deestone tyres from 2017. "The main unique point for Deestone is its continuous quality improvement and new product development. We are also impressed and feel happy with the fast response from Cooperteams whenever we face any issues or customer complaints and they carry out attractive dealer programmes."
"Currently, we are focusing more on the Deestone D314 tyre, which is the hottest selling product in the industrial tractor segment. Besides this, the light truck tyres - D102 and D108 – are also selling well."
The Deestone D314 bias ply tyres are engineered for industrial tractors. They feature extra wide lugs that provide sufficient surface contact to boost traction and minimise wear. The optimised lug shape also ensures superb handling and smooth rolling. The space between the lugs provides self-cleaning capabilities while a tough tread compound wears slowly to prolong tyre life. The internal structure of the D314 tyre is robustly constructed to improve high loads and endurance.
The Deestone D102 tyres for light trucks are designed for highway use. They feature the proven 5-rib 4-groove tread design that provides sufficient ride stability and superior handling. The zigzag rib pattern improves traction while the closed shoulder design ensures optimal surface contact to minimise wear and provide better steering. On wet surfaces, the four ribs channel water away for a better contact patch to reduce the risk of hydroplaning and improve traction.
The Deestone D108 comes with the premium rib tread design to offer excellent water dispersion and traction under all-season road conditions. The reinforced carcass assures strength and durability, improving load capacity, while the advanced tread compound is designed for abrasion resistance and increased durability. This tyre is suitable for all wheel positions.
Mah is optimistic about the Deestone's brand and products. With the increasing brand awareness, product quality and fast response from Cooperteams, he foresees the potential that these bring in the future.
F1 Tyre Sdn Bhd, a one-stop car service centre, has been selling Deestone tyres since 2017 and it is the sub brand for this centre. Branch Manager Lee Kean Wen (Ken) has worked in a tyre shop for the past 10 years.
"I choose Deestone as a sub brand because its tyres are of a good quality and affordable. After selling Deestone, we found the customer's feedback encouraging. And the tyre pattern is nice and long lasting."
Ken said the workshop received fast response and support from Cooperteams Distribution, especially in marketing and advertisements, as these might help to reach more potential customers.
"They know the market trend and needs, and would come up with strategies and promotions, such as giving more vouchers or rebates to its dealers. It's definitely helping us to convince more customers to choose Deestone tyres."
"Nowadays, most customers look for a smooth ride, better comfort and less noisy tyres for daily use. We would introduce the Deestone Premium Tourer RA01 to them."
Billed as striking a good balance between comfort and performance, the Premium Tourer RA01 tyre comes in 25 sizes for 15, 16 and 17-inch wheels. Developed as a premium comfort tyre for medium to large sedans as well as compact crossovers or sport utility vehicles, the Premium Tourer RA01 tyre features an asymmetric tread pattern for enhanced performance on wet and dry surfaces as well as superior control with an anti-aquaplaning design.
Ken believed Deestone brand would continue to come up with better products and offers to meet the various demands of the market.
Link to article
https://www.tyremanmagazine.com/latest-news/posts/2019/february/deestone...