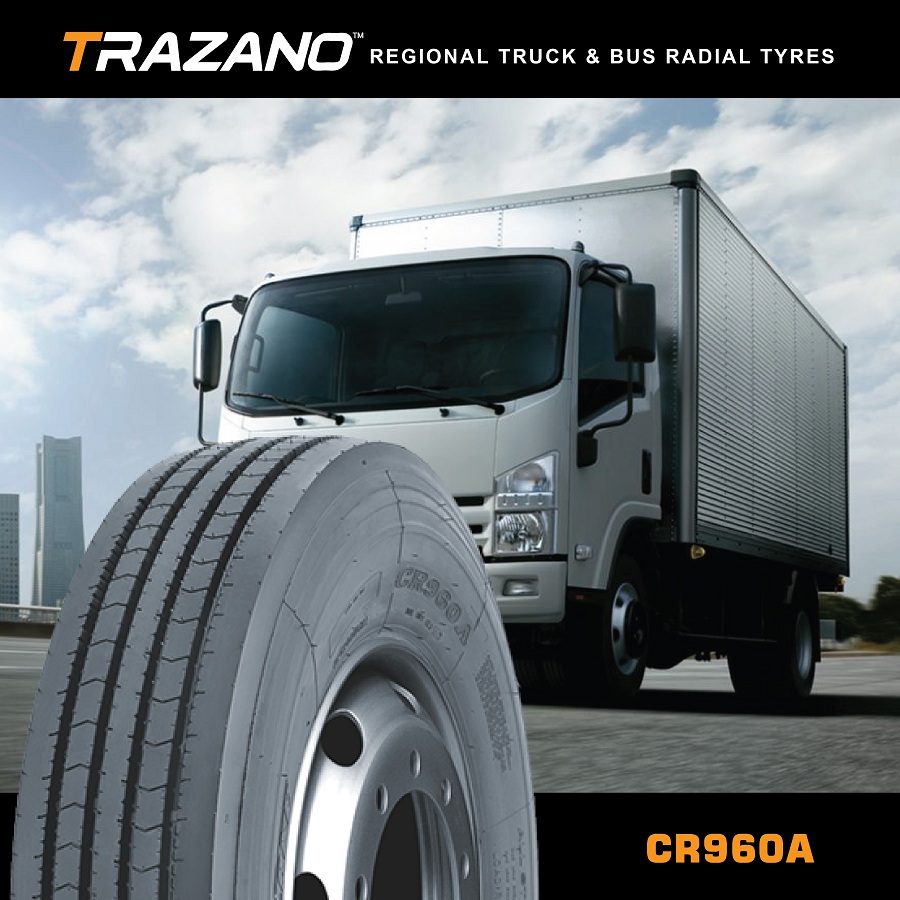 Trazano CR960A Truck and Bus Radial (TBR) Regional Tyres
The Trazano CR960A is a steer/trailer truck and bus radial (TBR) tyre manufactured by ZC Rubber for regional-haul cargo trucks used primarily in light-duty commercial transport fleets as well as medium/heavy-duty applications.
Optimized for service durability and handling, the rib-tread CR960A series is also verified as a fuel-efficient low rolling resistance (LRR) tyre by SmartWay, a freight transportation efficiency program by USA's Environmental Protection Agency.
Trazano CR960A Tyre
The CR960A – and Trazano's wider range of truck and bus radial tyres – is distributed in West Malaysia by Malaysian tyre wholesaler, Cooperteams Distribution and fits commercial vehicles including top-selling Isuzu ELF, Hino 300, Mitsubishi Fuso Canter and more.        
With improved tread design and wet weather performance, the Trazano CR960A commercial truck tyre goes the extra mile to deliver great mileage and reliability for haulage and trucking service operators.  
Tread Durability
The CR960A's improved closed-shoulder tread design and straight rib pattern promote uniform wear which extends tread life, mileage and fuel economy.   
Solid Handling
The CR960A's straight simple rib pattern also incorporates cross rib sipes to evacuate water more effectively for solid control and outstanding wet traction handling. 
Common Size
215/75 R17.5 16PR TRAZANO CR960A
Isuzu ELF NPR 150 NPR75UHLN / NPR75UKLN
Isuzu ELF NPR Pro NPR81UHL / NPR81UKH
Isuzu ELF NPR 150 NPR75UHL / NPR75UKH
Isuzu ELF NQR Pro NQR75UKN / NQR75ULN
Isuzu ELF NPR Crew NPR75UKHW
Hino 300 Light Duty XZU710K / XZU710L / XZU720K / XZU720L
Hino 300 Light Duty XZU730L / XZU720LA / XZU730LA
Hino 300 Light Duty XZU720LC / XZU720L8 / XZU730L8
Mitsubishi Fuso Canter FEB7MEL4S / FEB7MGL4S / FEB9MGL4S
JAC Motors N75 / N82 / N90
Tata Ultra 814
235/75 R17.5 16PR TRAZANO CR960A
Tata Ultra 1012
Mahindra Furio 11
315/80 R22.5 18PR TRAZANO CR960A
Tata Prima 4038.S / 4938.S
Foton Daimler Auman EST BJ4259SMFKB-MD
Your One-Stop Tyre Solution
Trazano CR960A is available from Cooperteams Distribution, an authorized Malaysia Trazano tyre supplier based in Shah Alam, Selangor, Peninsula West Malaysia.
We distribute and supply a range of Trazano truck and bus tyres throughout central Peninsula West Malaysia including Kuala Lumpur and Selangor; southern Peninsula West Malaysia including Johor; northern Peninsula West Malaysia including Perak and Kedah; and eastern Peninsula West Malaysia.
Browse our Products or Contact us for more details on Trazano products.
About Trazano
Originally founded in USA, Trazano is today part of ZC (Zhongce) Rubber, the No. 1 tyre manufacturer in China which also owns tyre brands such as Westlake, Goodride, Chaoyang and Arisun. ZC Rubber products include truck tyres, passenger car tyres, industry tyres, off-road tyres, agricultural tyres, bicycle tyres, motorcycle tyres and ATV tyres that are sold globally in over 160 countries.
Link
http://www.zc-rubber.com/index.php/service/info/cr960a/271