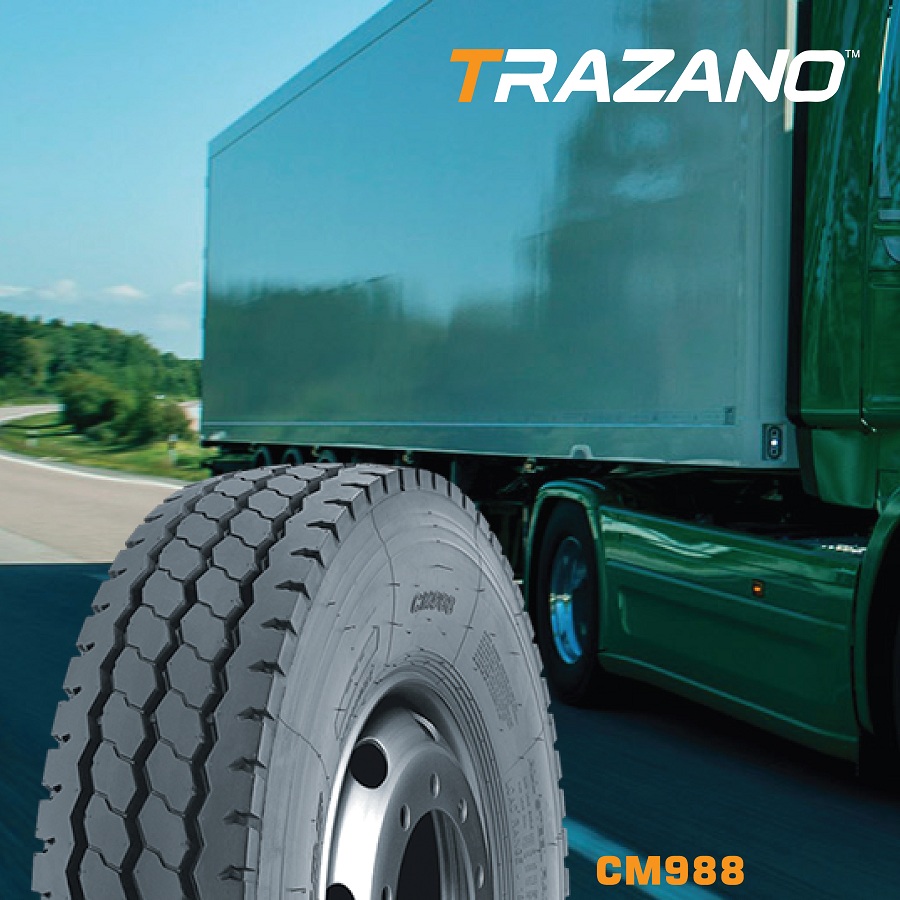 Trazano CM988 Truck and Bus Radial (TBR) On/Off Road Tyres
Introducing the Trazano CM988 – an all-position AP/steer truck and bus radial (TBR) tyre for on-road and off-road service applications. The deep-tread CM988 is designed to deliver optimal tyre performance for on-road and off-road fleets operating in both wet and dry road conditions; a perfect fit for our equatorial climate in Malaysia.
Originally founded in USA, Trazano is now part of ZC (Zhongce) Rubber, the No. 1 tyre manufacturer in China which also owns tyre brands such as Westlake, Goodride, Chaoyang and Arisun that are sold globally in over 160 countries.
The Trazano CM988 is distributed in West Malaysia by Malaysia tyre distributor, Cooperteams Distribution. With its combination of long tread life and wet/dry traction capability, the CM988 truck and bus radial (TBR) tyre is ideal for handling the rigors of on-road and off-road service routes and mixed weather driving in our region.   
Key Features of the Trazano CM988
Long Tread Life: The CM988 is designed with wide and deep treads to provide long tread life for improving tyre mileage.    
Wet/Dry Traction: The CM988 features zig-zag ribs to ensure an even wear and grip on wet, dry and even snowy roads.  
Common Sizes
295/80 R22.5 18PR TRAZANO CM988 TL
Your One-Stop Tyre Solution
Trazano CM988 is available from Cooperteams Distribution, an authorized Malaysia Trazano tyre supplier based in Shah Alam, Selangor, Peninsula West Malaysia.
We distribute and supply a range of Trazano truck and bus tyres throughout central Peninsula West Malaysia including Kuala Lumpur and Selangor; southern Peninsula West Malaysia including Johor; northern Peninsula West Malaysia including Perak and Kedah; and eastern Peninsula West Malaysia.
Browse our Products or Contact us for more details on Trazano products.
About ZC Rubber (Trazano)
The predecessor of ZC Rubber – Hangzhou Haichao rubber factory – was established in 1958 and subsequently renamed Zhongce Rubber Group Co., Limited in 2013. Over the years, the company has grown to become the largest tyre manufacturer in China and achieving notable milestones such as:
First inner tube produced in 1973
Truck and bus radial (TBR) factory established in Hangzhou Xiasha in 1995
500th factory established in Hangzhou Xiasha in 2005
The company produces a variety of valuable tyres covering truck tyre, passenger car tyre, industry tyre, Off road tyre, agricultural tyre, bicycle tyre, motorcycle tyre and ATV tyre. It has Trazano, Westlake, Goodride, Chaoyang and Arisun tyre brands to meet different requirements of global customers.
ZC Rubber products cover six continents in more than 160 countries and regions. It was ranked in the Top 10 global tyre manufacturer in 2012 and its sales revenue reached USD3.99 billion in 2018.
Source
http://www.zc-rubber.com/index.php/service/info/cm988/294
http://www.zc-rubber.com/index.php/about