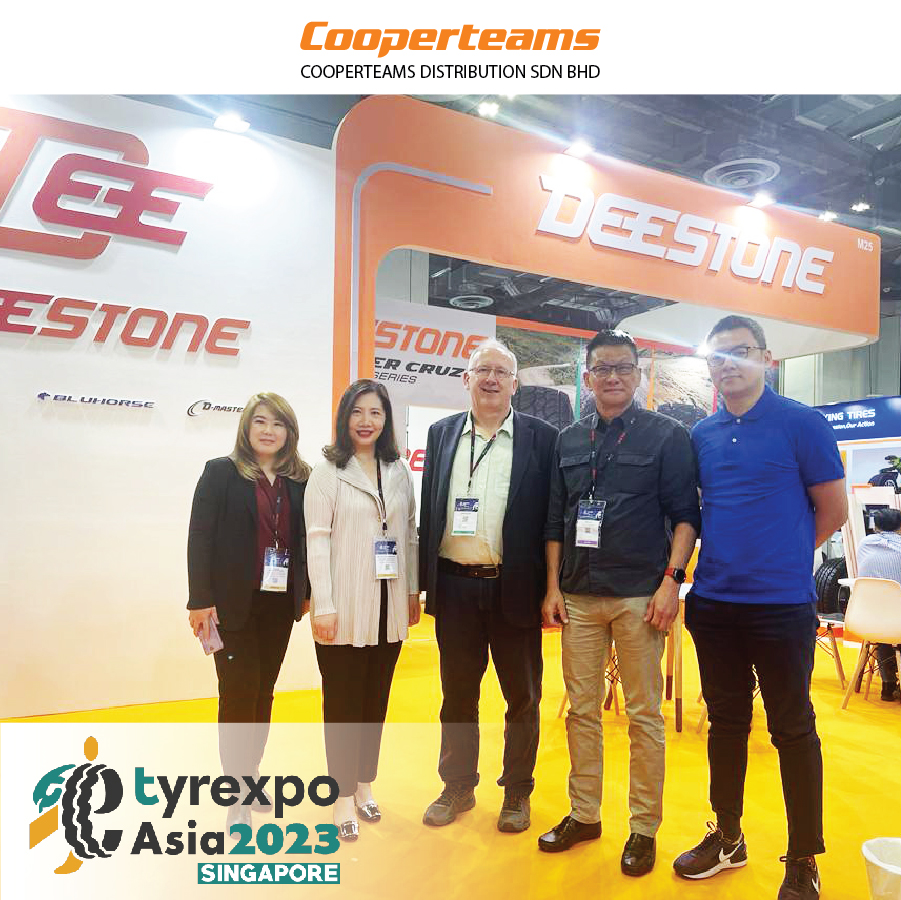 Strengthening Ties with Deestone at TyreXpo Asia 2023
Asia's premier tyre exhibition, TyreXpo Asia 2023 – part of the globally-recognized Tyrexpo Series which include exhibitions in Thailand and Singapore – recently staged its successful B2B event from 8th–10th March 2023 at Marina Bay Sands Convention Centre in Singapore.
Attracting more than 3000 tyre industry professionals from across the globe, TyreXpo Asia 2023 showcased over 180 influential tyre exhibitors in the region including Deestone, one of Thailand's leading tyre producers with market presence in over 120 countries worldwide. 
During the 3-day expo attended by tyre distributors, traders, fleet managers and dealers, our delegation from Cooperteams Distribution led by Managing Director, Mr. Philip Lau (pictured 4th from left) had the opportunity to strengthen ties with Deestone's top management represented by Chief Executive Officer, Ms. Vanlaya Vongsariyanavich and Chief Marketing Officer, Ms. Wanwisa Ongpaisanratsamee (pictured 2nd & 1st respectively from left). 
Cooperteams Distribution (SUNLUN Group) has been the main authorized distributor of Deestone tyres in West Malaysia since 2012 and TyreXpo Asia 2023 provided the ideal platform to forge greater partnership with Deestone towards meeting the needs of consumers in 2023 and beyond.     
Malaysia's One Stop Tyre Solution
Cooperteams Distribution is an authorized Malaysia Deestone tyre distributor based in Shah Alam, Selangor, West Malaysia. We distribute and supply the full range of Deestone tyres throughout central West Malaysia including Kuala Lumpur and Selangor; southern West Malaysia including Johor, Negeri Sembilan and Melaka (Malacca); northern West Malaysia including Perak, Kedah and Pulau Pinang (Penang); and eastern West Malaysia including Pahang, Kelantan and Terengganu:
Deestone passenger car radial (PCR) tyres
Deestone ultra-high performance (UHP) tyres
Deestone SUV/4x4 tyres
Deestone commercial van/ultra-light truck (ULT) tyres
Deestone light truck (LT) tyres
Deestone truck & bus radial (TBR) tyres
Deestone farm & agricultural implement off-the-road (OTR) tyres
Deestone forklift/tractor/industrial off-the-road (OTR) tyres
Deestone construction/earthmoving off-the-road (OTR) tyres
Deestone ATV, golf cart/buggy, go cart & wheel-barrow specialty off-the-road (OTR) tyres
Browse our Products or Contact us for more details on Deestone products.
About Deestone
Deestone was founded in Thailand in 1977 and is today, the country's largest Thai-owned tyre production facility with international distribution in more than 120 countries worldwide. Deestone manufactures a wide segment of quality tyres to meet market-specific requirements with high production standards and global certifications including ISO, DOT, E-mark, TUV NORD, SIRIM, MS and more.