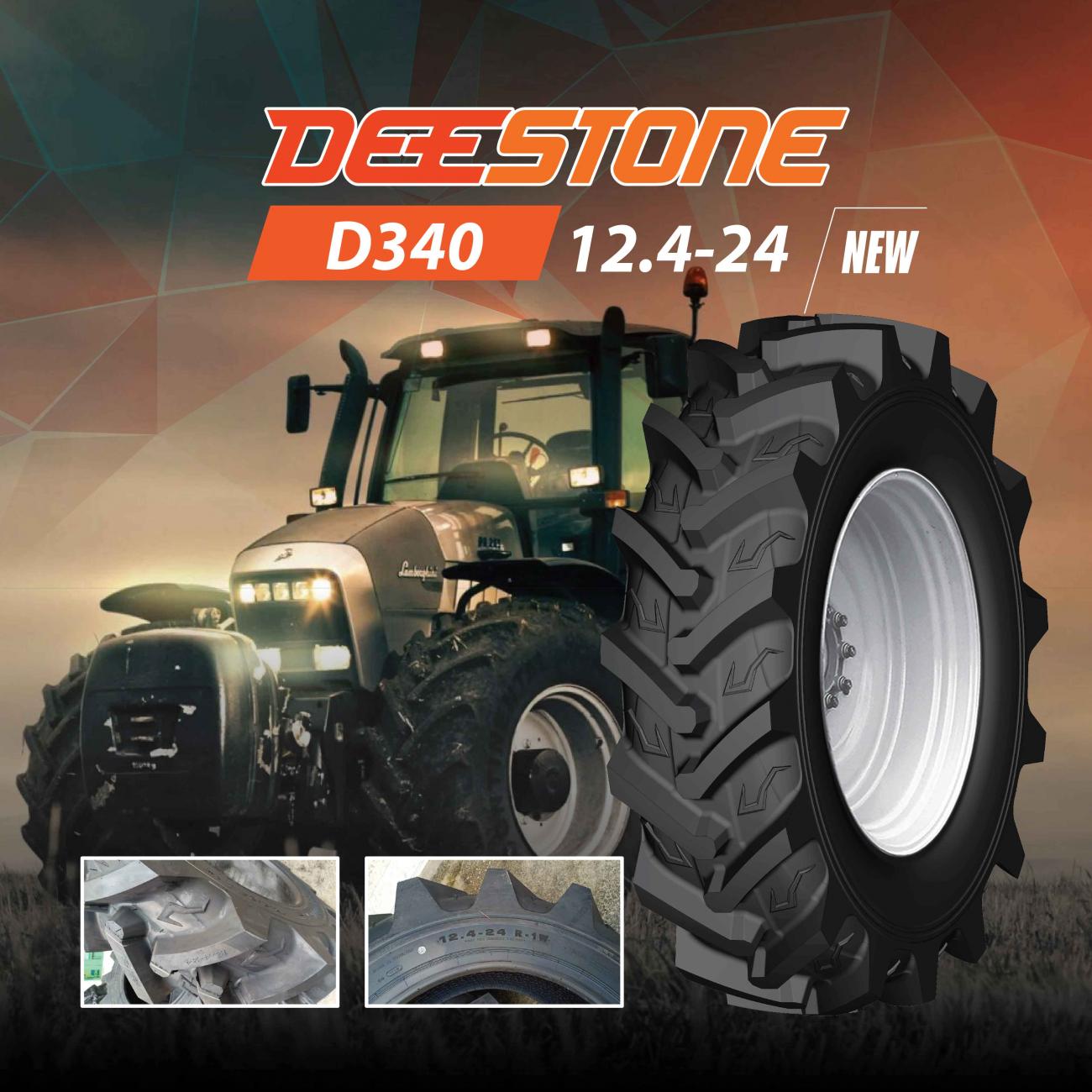 New Deestone D340 Farm & Implement Tyres
The new Deestone D340 is our latest farm and implement tyre from Deestone, Thailand's largest Thai-owned tyre producer. This newest range of Deestone agricultural tyre is specifically suited to tackling muddy fields in the farming heartlands of Malaysia, making it an ideal farm and implement tyre for our regional markets.
Deestone D340 Tyre
The Deestone D340 was launched in Malaysia by Deestone tyre supplier, Cooperteams Distribution. With this latest iteration of farm and implement tyre, Deestone further solidifies its reputation as a trusted regional and global producer of tyres for a wide range of applications.
Since its market launch, the D340's blend of unique design, quality and affordability has received overwhelming response from end users and dealers in our agricultural sector with consistently strong demand for its various tyre size segments such as 12.4-24 tyres.
Superior Mud Traction
The Deestone D340 features an improved tread depth and an open, angled lug design with a unique tread groove pattern to provide better traction and self-cleaning especially in wet and muddy soil conditions.  
Longer Mileage
The Deestone D340 also features a strong nylon casing and thicker compound to provide excellent durability, wear resistance and stability for longer tyre lifespan.  
Common Sizes
9.5-16 6PR TT DEESTONE D340
9.5-20 8PR TT DEESTONE D340
11.2-20 8PR TT DEESTONE D340
11.2-24 8PR TT DEESTONE D340
12.4-24 8PR TT DEESTONE D340
13.6-24 8PR TT DEESTONE D340
"Move The World" with Deestone
Deestone D340 is available from Cooperteams Distribution, an official Malaysia Deestone tyre supplier based in Shah Alam, Selangor, Peninsula West Malaysia.
We distribute and supply a range of Deestone farm and implement tyres throughout central Peninsula West Malaysia including Kuala Lumpur and Selangor; southern Peninsula West Malaysia including Johor, Negeri Sembilan and Melaka (Malacca); northern Peninsula West Malaysia including Perak, Kedah and Pulau Pinang (Penang); and eastern Peninsula West Malaysia including Pahang, Kelantan and Terengganu.
Browse our Products or Contact us for more details on Deestone products.
About Deestone
Deestone is a Thai tyre manufacturer founded in 1977 and based in Om Noi, Samut Sakhon in Thailand. It is the country's largest Thai-owned tyres production facility, running five plants and subsidiaries in Samut Sakhon and Nakhon Pathom.
In 2015, Deestone had a total investment of around 10 billion baht with production capacity for radial tyres for more than 10 million units. Deestone manufactures numerous products such as radial tyres, motorcycle tyres, truck tyres, bicycle tyres, agricultural tyres etc.
Deestone's business philosophy "Integrity, Honesty and Accountability" has resulted in the company forming a worldwide reputation which qualifies with global standards and trusted by more than 120 countries.
With over 40 years of experience, Deestone has been producing quality tyres, while continuously developing every product to the highest standard. All Deestone products service various market segments which consist of high standards of production and certified with global standards.