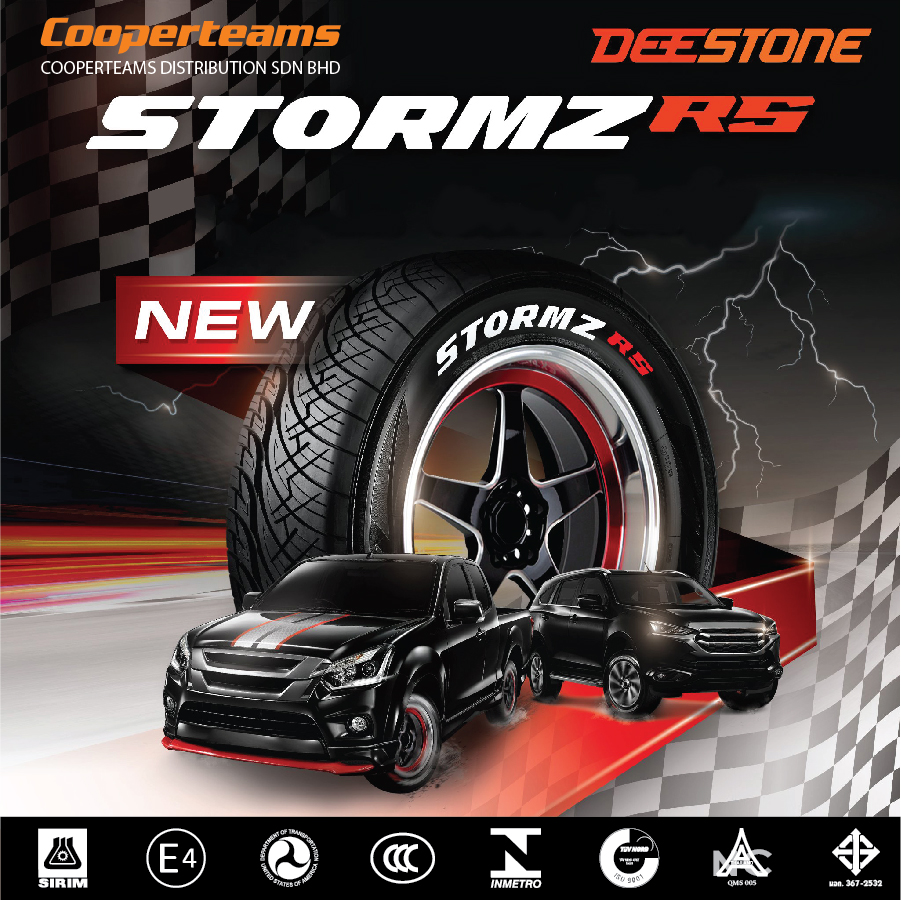 NEW ARRIVAL! Deestone Stormz RS 4x4/SUV Tyres
Ride out the storm in style with new Deestone Stormz RS, the latest 4x4/SUV extra-load (XL) tyres from Cooperteams Distribution that offer racing-inspired sportiness for modern utility vehicles including Isuzu D-Max, Toyota Fortuner, Mitsubishi Triton and Ford Everest.
The Stormz RS series of sporty 18" and 20" tyres feature asymmetric tread technology and distinctive sidewall design that will appeal to custom 4x4/SUV enthusiasts in Malaysia who are keen on setting out to impress while enjoying a confident ride – come rain or shine.
Sporty Ride
The Deestone Stormz RS applies asymmetric tread design with sporty performance to increase the efficiency of road contact adhesion particularly during cornering maneuvers, and ensure excellent wet/dry grip capabilities when driving on straight or curvy roads.     
Bold Sidewall
The Deestone Stormz RS displays a stylish sidewall pattern which contains bold letter markings produced using special colour pigments with Multiple Layers Adhesive Rubber technology to prevent peeling or contamination through improved durability of adhesion.        
Wet Weather
The Deestone Stormz RS employs large continuous main grooves as well as smaller tyre sipes to reduce the occurrence of hydroplaning by enabling water to be channeled away quickly from the tread in all directions and thereby maintaining safety on wet roads.       
Quieter Design
The Deestone Stormz RS adopts special noise-dampening design that optimizes alignment of the tread pattern to disperse sound frequencies more effectively and minimize noise levels at different speeds for greater driving comfort whether on even or bumpy roads.      
Available Sizes
255/50 R18 106V XL DEESTONE STORMZ RS
255/55 R18 109V XL DEESTONE STORMZ RS
265/60 R18 114V XL DEESTONE STORMZ RS
265/50 R20 111V XL DEESTONE STORMZ RS
Malaysia's One Stop Tyre Solution
Deestone Stormz RS is available from Cooperteams Distribution, an authorized Malaysia Deestone tyre distributor based in Shah Alam, Selangor, West Malaysia. We distribute and supply the full range of Deestone tyres throughout central West Malaysia including Kuala Lumpur and Selangor; southern West Malaysia including Johor, Negeri Sembilan and Melaka (Malacca); northern West Malaysia including Perak, Kedah and Pulau Pinang (Penang); and eastern West Malaysia including Pahang, Kelantan and Terengganu:
Deestone passenger car radial (PCR) tyres
Deestone ultra-high performance (UHP) tyres
Deestone SUV/4x4 tyres
Deestone commercial van/ultra-light truck (ULT) tyres
Deestone light truck (LT) tyres
Deestone truck & bus radial (TBR) tyres
Deestone farm & agricultural implement off-the-road (OTR) tyres
Deestone forklift/tractor/industrial off-the-road (OTR) tyres
Deestone construction/earthmoving off-the-road (OTR) tyres
Deestone ATV, golf cart/buggy, go cart & wheel-barrow specialty off-the-road (OTR) tyres
Browse our Products or Contact us for more details on Deestone products.
About Deestone
Deestone was founded in Thailand in 1977 and is today, the country's largest Thai-owned tyre production facility with international distribution in more than 120 countries worldwide. Deestone manufactures a wide segment of quality tyres to meet market-specific requirements with high production standards and global certifications including ISO, DOT, E-mark, TUV NORD, SIRIM, MS and more.
Links
https://www.deestone.com/Tyre-Search/Radial/RADIAL-PCR-UHP/Stormz-RS.asp...
Size Compatibility
255/50 R18 106V XL DEESTONE STORMZ RS
Land Rover Discovery 3
Mercedes-Benz S-Class
255/55 R18 109V XL DEESTONE STORMZ RS
Audi Q7
BMW X5 / X6
Land Rover Discovery 2 / Range Rover Sport
Mercedes-Benz ML350
Porsche Cayenne / Macan
Volkswagen Touareg
265/60 R18 114V XL DEESTONE STORMZ RS
Chevrolet Colorado LTZ
Ford Ranger / Everest Trend / F-150
Isuzu D-Max
Jeep Grand Cherokee Limited / Night Eagle / Trailhawk
Mazda BT-50
Mercedes G350d / G500
Mitsubishi Triton / Pajero / Exceed
Nissan Frontier
Toyota Hilux Double Cab / Fortuner / Land Cruiser / Prado
265/50 R20 111V XL DEESTONE STORMZ RS
Ford Everest 2.0L Titanium AWD AT
Jeep Grand Cherokee Jet / Limited / Overland / Summit
Toyota Fortuner Legender 2.4L Diesel 2WD A/T
* Always refer to your vehicle manual for specifications in your region