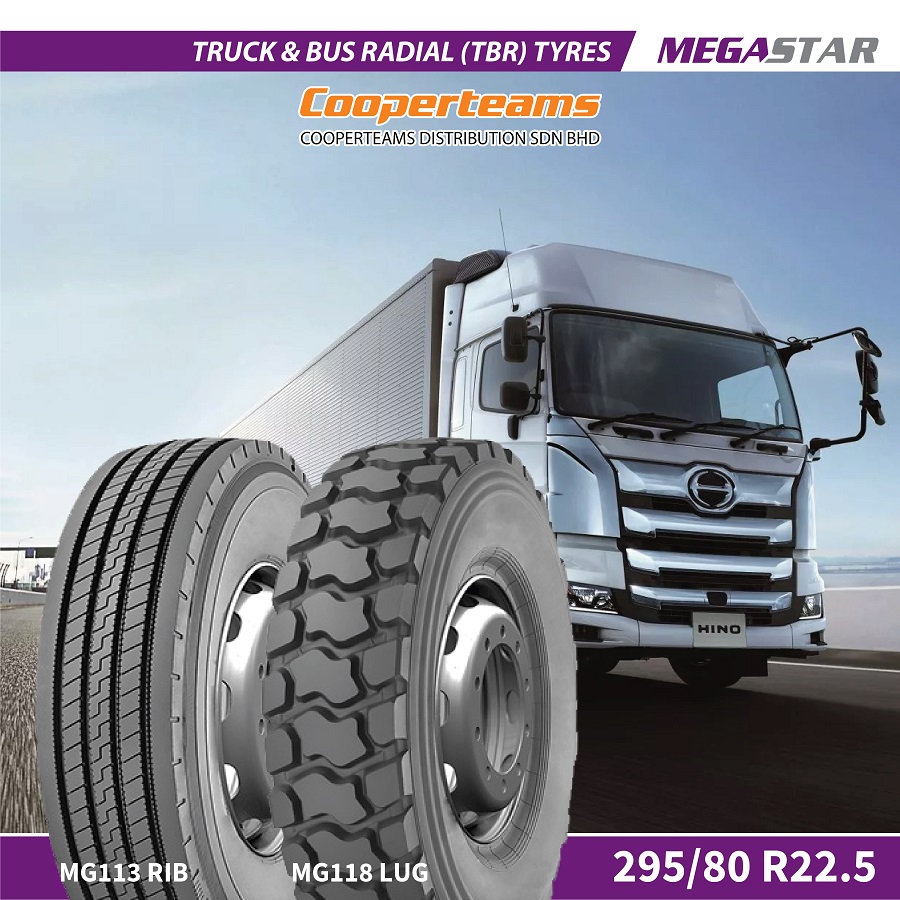 Megastar 295/80 R22.5 Truck & Bus Radial (TBR) Tyres
Go the extra mile with Megastar MG118 and Megastar MG113 – the competitive range of 295/80 R22.5 tubeless truck and bus radial (TBR) tyres available in lug or rib tread patterns to offer cost-effective solutions for mid-to-heavy duty transport applications in Malaysia.    
The MG118 and MG113 TBR tyres are manufactured for Cooperteams Distribution according to ISO9001 quality systems and DOT/ECE tyre standards by Shandong Yinbao Tyre Group, the radial/specialty tyre producer and OE supplier for heavy truck, steel and defense industries.  
MEGASTAR MG118
22.5" tubeless TBR tyre with lug-type pattern
Special tread design for high traction on wet and muddy road
Special tread compound for high-resistant tread cut
Tough belt construction for smooth tread wear and longer mileage
295/80 R22.5 18PR for Isuzu Forward / Hino 700 / Scania R 520 etc. 
295/80 R22.5 18PR for Mitsubishi Fuso / Mercedes Benz Actros etc.  
MEGASTAR MG113
22.5" tubeless TBR tyre with rib-type pattern
Excellent handling stability with 5-rib tread and wide shoulder
4 wide straight grooves for efficient drainage and wet/dry braking
Durability from advanced compound with low heat generation
Strengthened casing for multiple retreadability
295/80 R22.5 18PR for Hino 500 / Isuzu Giga / Dong Feng KC etc.
295/80 R22.5 18PR for UD Trucks New Quester / Foton Auman etc.
Malaysia's One Stop Tyre Solution
Megastar truck and bus radial (TBR) tyres are available from Cooperteams Distribution, a Malaysia tyre distributor based in Shah Alam, Selangor, West Malaysia. We distribute and supply Megastar tyres throughout central West Malaysia including Kuala Lumpur and Selangor; southern West Malaysia including Johor, Negeri Sembilan and Melaka (Malacca); northern West Malaysia including Perak, Kedah and Pulau Pinang (Penang); and eastern West Malaysia including Pahang, Kelantan and Terengganu:
Megastar light truck radial (LTR)/light truck bias tyres
Megastar truck and bus radial (TBR)/truck bias tyres
Megastar farm & implement tyres
Megastar industrial tyres
Megastar off-the-road (OTR) tyres
Megastar grader tyres
Megastar ATV tyres
Browse our Products or Contact us for more details on Megastar products.
Size Compatibility
295/80 R22.5 18PR MEGASTAR MG113
295/80 R22.5 18PR MEGASTAR MG118
Dong Feng KC 8X4 CM (DFL3318A12) / 6x4 (DFL3258A11)
Dong Feng KINLAND 375 (DFL4181A) / KINGRUN 270.LWB (DFL1180)
Foton Daimler EST Truck BJ4189SLFKA-M1
Foton Bison BJ3253 / BJ4187 / BJ4253 / BJ5253
Foton Auman BJ4189A / BJ4189TA / BJ4189T1 / BJ4189T2
Hino 500 Series GH8JL1D / GH8JM1A (MT) / GH8JR1A / SG2PE1B
Hino 500 Series FL8JW1A / FM2PN1D / FM2PN1M / FM2PL1B
Hino 700 Series SH1EERG / SH1EERA / SH1EERA-MRM (AMT)
Hino 700 Series SR1EKRG / SR1EKRG-MRM (AMT) / SS1EKRA
Hino 700 Series SS1EKRA-RRM (AMT)
Hyundai Xcient GT 4x2 / 6x2 / 6x4
Hyundai UNIVERSE SPACE Bus D6ABDD / D6CB38 / D6CC38
Hyundai UNIVERSE SPACE Bus D6CD38 / D6HA3H
Hyundai UNIVERSE RHD Bus D6CB38 / D6CB41 / D6HC43
Isuzu FORWARD FVR240 FVR34UU-PDP / FVR34UU-MD / FVR34UU-SD
Isuzu FORWARD FVR300 FVR34UU-ST2
Isuzu GIGA FXZ360 FXZ77UU-2E / FXZ77UU-M / S-2E / FXZ77UU
Isuzu GIGA GXR360 GXR77VU-2E / GXZ360 GXZ77UU-2E
Isuzu GIGA PRIME MOVER 4x2 GXR77VU / 6x4 GXZ77UU
Iveco STRALIS EEV AT440S48T/P / AT440S48T/P
Iveco STRALIS AS-L Series II / STRALIS X-WAY PRIME MOVER
Man TGX 6x4
Mercedes Benz Actros 2644 LS DNA-M-Cab / LS DNA-L-Cab / 2644 S
Mitsubishi Fuso FJ1828R / FN62FM
Scania R/G 410 LA4x2MNA / CB8x4MHZ / CA6x4MHZ
Scania G 440/480 6X4 / 8X4 RIGID
Scania R 520 LA6x2/4MNA / P 370 LA4x2MNA / P 340 LB8x2HHA
Scania P 360 CB8x4MHZ / LA4x2MNA
Scania P 250 CB6x4MHZ / DB4x2HNZ
UD Trucks New Quester CGE84R11MS / CWE64R08MS / CWE64R11MS
UD Trucks New Quester GDE62TT11MJ / GKE42T08MD / GKE42T11MD
UD Trucks QUON CW 26 390 6x4 / CONDOR PK 16 280
UD Trucks NEW QUON CD 25 390 6x2 / CW 26 390 6x4
UD Trucks NEW QUON GK 17 420 4x2 / GW 26 420 6x4
XCMG XGA4250D3WC (12JSD200TA) / XGA4250D3WC (16JZSD220A)
XCMG XGA4250D3WC / XGA4250D3WB (WP12.430N)
XCMG XGA4250D3WB (WP12.375N) / XGA4250D3WB
XCMG XGA4250D3WA (16JZSD200A) / XGA4250D3WA
XCMG XGA4250D3WA (12JSD180T)
* Always refer to your vehicle manual for specifications in your region