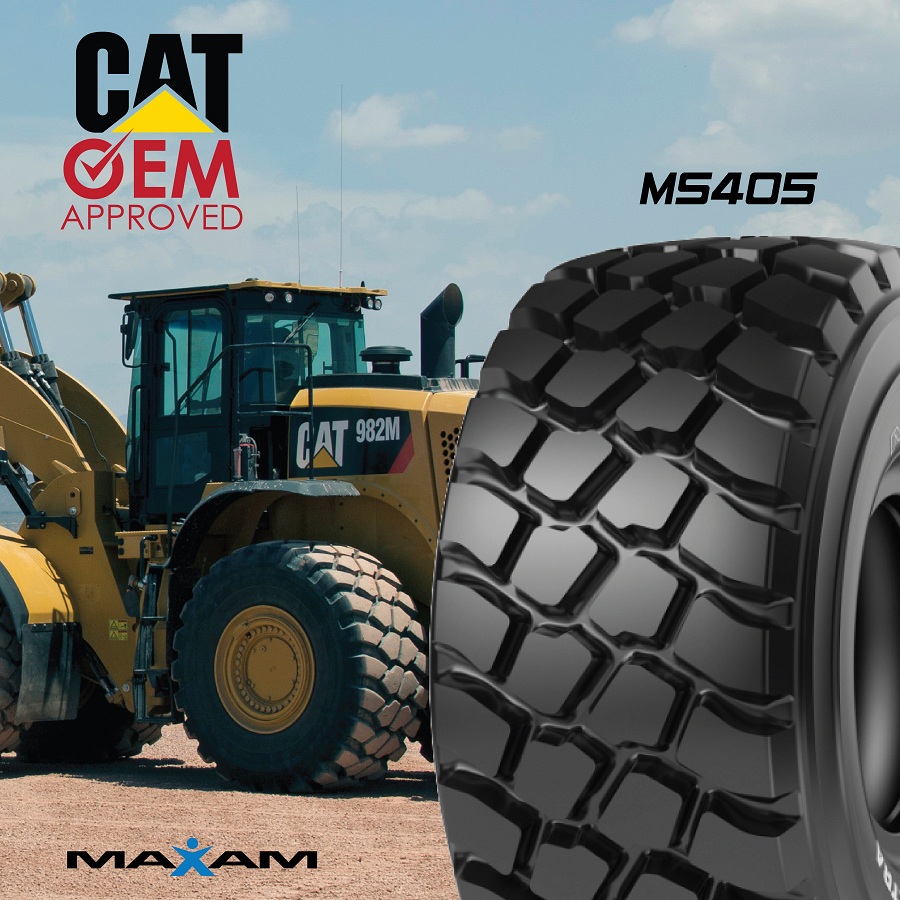 Maxam MS405 E4/L4 Off-The-Road Tyres
The Maxam MS405 is an E4/L4 off-the-road (OTR) tyre for earthmoving and construction equipments such as articulated dump trucks (ADTs), loaders and dozers.
Produced by Maxam Tire – a global OTR and specialty tyre manufacturer – the MS405 features deep E4/L4 lug tread design to deliver excellent traction, stability and performance under harsh, extreme off-road conditions. 
Its quality standard has even earned approval by Caterpillar Inc. (CAT), the world's largest construction equipment manufacturer to use the 875/65R29 Maxam MS405 L4 tyre as OEM tyre on specific CAT 982M medium wheel loaders.
Maxam MS405 Tyre
The Maxam MS405 is part of Maxam's series of high-quality OTR tyres and complements the company's wider product line which also includes construction, mining, industrial, agricultural and forestry tyres.
Distributed in West Malaysia by authorized Maxam dealer, Cooperteams Distribution; the MS405 is designed specifically to minimize vibration at haul speeds thus providing the lowest cost-per-hour for superior productivity and minimal downtime.
Off-Road Traction
The Maxam MS405's deep E4/L4 lug pattern offers excellent traction in all off-road conditions.
Rugged Build
The Maxam MS405's deep undertread and cut-resistant tread compound improves puncture resistance and combines a high-quality casing for great retreadability. 
Maximum Stability
The Maxam MS405's wide, flat footprint profile maximizes stability and wear-resistance.
Common Size
23.5R25 2* TL MAXAM MS405 E4
26.5R25 2* TL MAXAM MS405 E4
29.5R25 2* TL MAXAM MS405 E4
875/65R29 2* TL MAXAM MS405
Malaysia's One-Stop Tyre Solution
Maxam MS405 is available from Cooperteams Distribution, an authorized Malaysia Maxam tyre dealer based in Shah Alam, Selangor, West Malaysia. We distribute and supply Maxam tyres throughout central West Malaysia including Kuala Lumpur and Selangor; southern West Malaysia including Johor, Negeri Sembilan and Melaka (Malacca); northern West Malaysia including Perak, Kedah and Pulau Pinang (Penang); and eastern West Malaysia including Pahang, Kelantan and Terengganu:
Maxam E3/E4/L3/L3+/L4 off-the-road (OTR) tyres
Maxam earthmoving/loader/dozer tyres
Maxam 2WD/R1/R4 construction tyres
Maxam backhoe/grader/telehandler construction tyres
Maxam skid steer/wheeled excavator construction tyres
Maxam multipurpose/multipurpose radial construction tyres
Maxam industrial solid/pneumatic tyres
Maxam forklift/ground support equipment (GSE) tyres
Maxam E4 mining tyres
Maxam I1 agricultural implement tyres
Maxam LS2 forestry tyres
Browse our Products or Contact us for more details on Maxam products.
About Maxam Tire
Maxam Tire is a global leader and manufacturer of OTR and specialty tyres. It is a subsidiary of Sailun Group – China's first A-listed private tyre company – with worldwide presence in North America, South Central America, Europe, Middle East, Africa, Asia and Asia Pacific. Maxam Tire also currently supplies 23.5R25 Maxam MS302 as factory fitment option on CAT 950GC, 950L, 950M, 962L, and 962M in certain regions.
Links
https://maxamtire.com/en-gb/products/otr/ms405/
https://maxamtire.com/en-gb/newsroom/press-release/maxam-ms405-approved-...