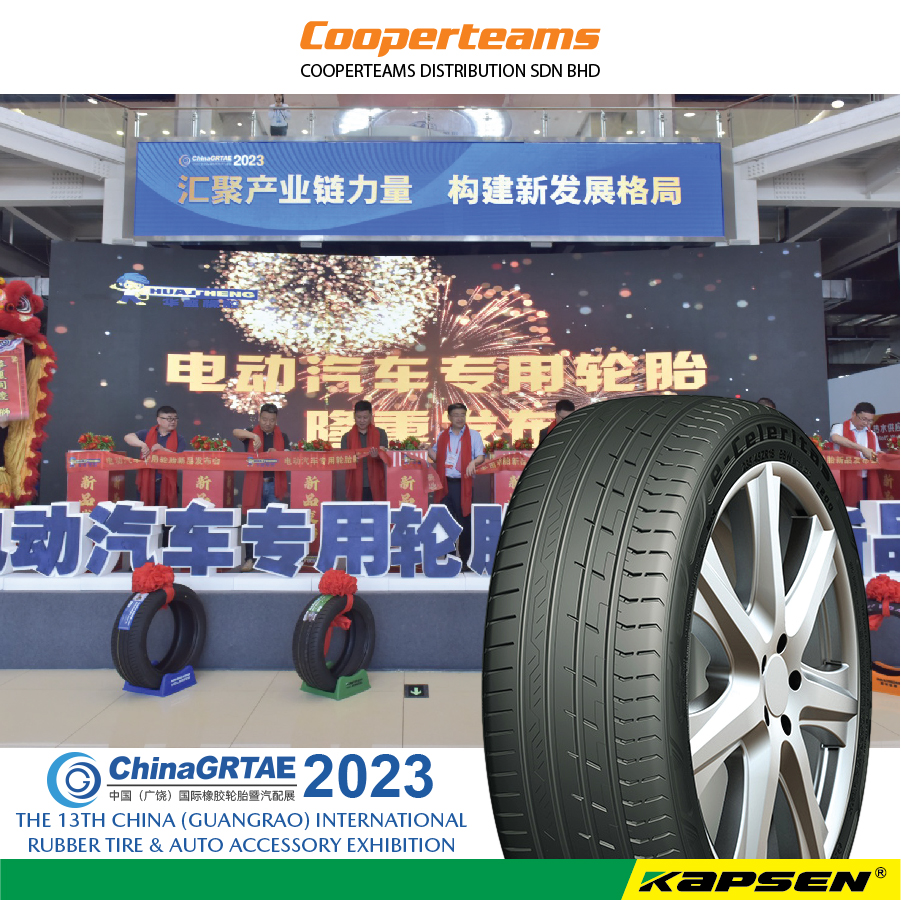 Launching of New Electric Vehicle (EV) Tyres by Kapsen Producer
The producer of Kapsen tyres recently held a grand launching of their newest innovations in electric vehicle (EV) tyres at the 13th China (Guangrao) International Rubber Tire & Auto Accessory Exhibition which attracted over 750 exhibitors including Fortune 500 brands.   
This exciting entry into the EV tyre market marks the culmination of a two-year investment in dedicated research and development – pioneering new tyre technologies to drive towards an environmentally-sustainable future ushered in by rapid growth of new energy vehicles.
As a testament to this commitment, three series of special products for electric vehicles were showcased at the trade expo which was attended by nearly 20,000 industry professionals:
Ultra-Quiet Series
The new polyurethane foam spacer developed for the ultra-quiet series features a durable sound-absorbing cotton technology capable of noise reduction by 6 – 10 decibels.  
Self-Healing Series
The new adhesive tyre coating developed for the self-healing series features a class-leading glue technology capable of self-sealing punctures between 35 – 120 degrees Celsius.      
Colourful Custom Series
The new distinctive colours incorporated into the specially-launched custom series features colorful sidewall technology that enables consumers to emphasize their individuality.  
The annual exhibition from 15 – 17 May 2023 also saw the introduction of the company's new EV all-steel truck & bus tyres for electrified buses and short-to-medium haul trucks – offering high load capability, excellent noise control, optimized wear and low rolling resistance.
Malaysia's One Stop Tyre Solution
Cooperteams Distribution is an authorized Malaysia Kapsen tyre supplier based in Shah Alam, Selangor, West Malaysia. We distribute and supply Kapsen tyres throughout central West Malaysia including Kuala Lumpur and Selangor; southern West Malaysia including Johor, Negeri Sembilan and Melaka (Malacca); northern West Malaysia including Perak, Kedah and Pulau Pinang (Penang); and eastern West Malaysia including Pahang, Kelantan and Terengganu:
Kapsen passenger car radial (PCR) tyres
Kapsen SUV/4x4/pickup truck tyres
Kapsen commercial van/light truck tyres
Kapsen truck and bus radial (TBR) tyres
Browse our Products or Contact us for more details on Kapsen products.
About Kapsen
Kapsen tyres are manufactured by Shandong Huasheng Rubber, a Chinese tyre producer with annual capacity of 20 million PCR and 8 million TBR tyres that are widely exported to Europe, America, Middle East, Africa and Oceania. Kapsen is part of tyre brand family including Habilead, Huasheng, Taitong and TerraKing that meet manufacturing quality standards from DOT, ECE, ISO9001, ISO14001, GCC, SONCAP, SASO and more.
Links
https://mp.weixin.qq.com/s/-kPTf9mN2l0A0W1C-0OjgA
http://m.sdchina.com/touch/4803306.html
https://www.kapsentyre.com/