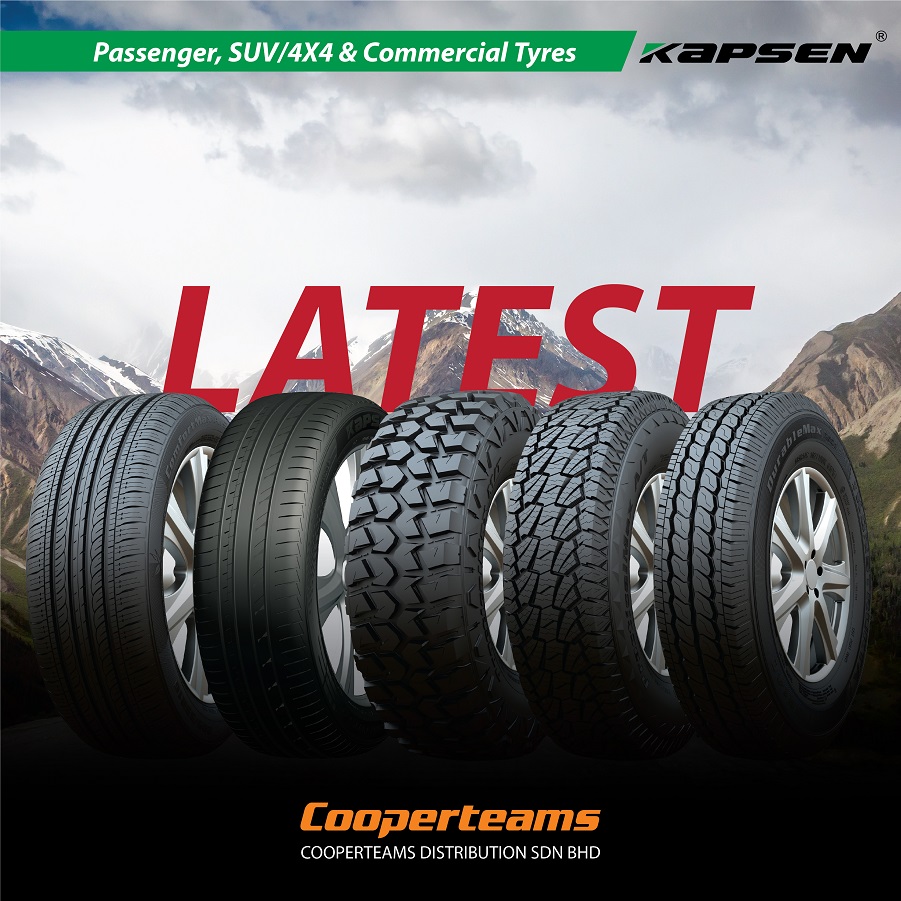 Kapsen PCR, SUV/4x4 & Commercial Van/Light Truck Tyres
Tyre consumers can now choose the right tyre at the right budget with latest arrival of Kapsen cost-effective range of passenger car radial (PCR), SUV/4x4 and commercial van/light truck tyres from Cooperteams Distribution, Malaysia's one-stop tyre distributor.
Kapsen employs advanced production technologies and utilizes top raw materials to reinforce the development of affordable quality and green tyres – delivering stable performance, road safety and comfortable journey for motorists that prioritize economical driving.
Kapsen tyres are manufactured by Shandong Huasheng Rubber, a Chinese tyre company with total annual capacity of 28 million radial tyres distributed globally in over 100 countries across multiple brand segments including Habilead, Huasheng, Taitong and TerraKing.
Kapsen continues to support its market growth strategy through strong R&D investments and quality manufacturing systems that are certified to strict international standards from ISO9001:TS16949, DOT, ECE, SASO, GCC, INMETRO, BIS, SONCAP and more.
KAPSEN PASSENGER (PCR) TYRES
Available in 12" to 22" sizes
COMFORTMAX AS H202
COMFORTMAX S801
SPORTMAX S2000
TOURINGMAX AS H201
K737 / K3000
KAPSEN SUV/4x4 TYRES
Available in 15" to 20" sizes
PRACTICALMAX A/T RS23
PRACTICALMAX H/T RS21
PRACTICALMAX H/T RS27
PRACTICALMAX M/T RS25
PRACTICALMAX H/P RS26
KAPSEN COMMERCIAL VAN/LIGHT TRUCK TYRES
Available in 13" to 16" sizes
Malaysia's One Stop Tyre Solution
Kapsen tyres are available from Cooperteams Distribution, a Malaysian tyre distributor based in Shah Alam, Selangor, West Malaysia. We distribute and supply Kapsen tyres throughout central West Malaysia including Kuala Lumpur and Selangor; southern West Malaysia including Johor, Negeri Sembilan and Melaka (Malacca); northern West Malaysia including Perak, Kedah and Pulau Pinang (Penang); and eastern West Malaysia including Pahang, Kelantan and Terengganu:
Kapsen passenger car radial (PCR) tyres
Kapsen SUV/4x4 tyres
Kapsen light truck (LT)/ultra-light truck (ULT) tyres
Browse our Products or Contact us for more details on Kapsen products.
About Kapsen
Kapsen tyres are manufactured by Shandong Huasheng Rubber, a Chinese tyre producer with annual capacity of 20 million PCR and 8 million TBR tyres that are widely exported to Europe, America, Middle East, Africa and Oceania. Kapsen is part of tyre brand family including Habilead, Huasheng, Taitong and TerraKing that meet manufacturing quality standards from DOT, ECE, ISO9001, ISO14001, GCC, SONCAP, SASO and more.
Links
https://www.kapsentyre.com/index.html
http://www.hstyre.com/