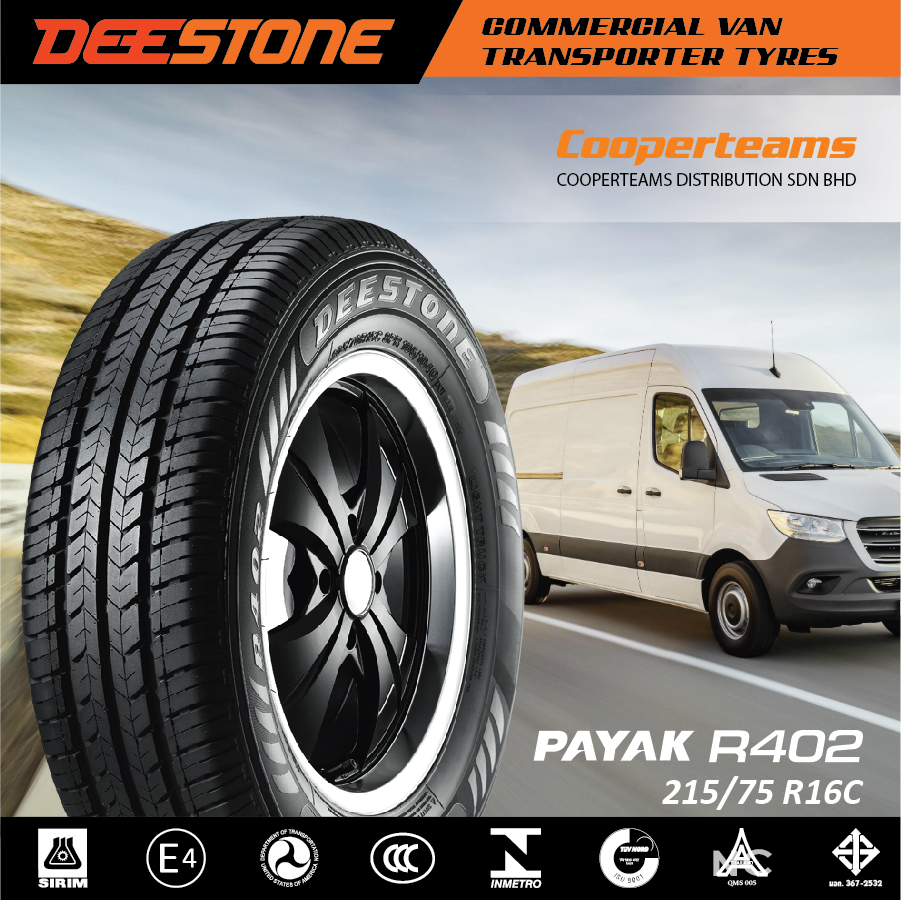 Deestone Payak R402 Commercial Tyres for Light Vans/Transporters
The Deestone Payak R402 light commercial tyre offers reliable mileage and stable control for goods vans, caravans and transporters in Malaysia including best-selling C.A.M Placer-X, the preferred tourism van equipped with 215/75 R16C original equipment (OE) tyres.
Available in 15C" to 16C" commercial-rated (C-type) sizes, the Payak R402 is part of a wide range of Deestone commercial tyres supplied by Cooperteams Distribution and presents cost-effective tyre solutions for light transport vehicles from C.A.M, Isuzu, Ford and more.
Wet Traction
The Deestone Payak R402's three deep, wide circumferential grooves and tread pattern with siping detail improve grip on wet roads by effectively draining water or slush away to resist hydroplaning for improved safety.   
Steering Response
The Deestone Payak R402's large shoulder block with detailed tread design contributes to stable response by ensuring optimal road surface contact during driving or cornering for greater steering control and precision.
Tread Performance
The Deestone Payak R402's compound formulation and tread block design with wide footprint optimize contact between the tyre and ground to provide excellent braking while minimizing uneven tread wear for better mileage.  
Available Sizes
205/70 R15C 8PR 106/104Q DEESTONE PAYAK R402
215/70 R15C 8PR 109/107R DEESTONE PAYAK R402
205/75 R16C 8PR 110/108R DEESTONE PAYAK R402
215/65 R16C 8PR 109/107R DEESTONE PAYAK R402
215/75 R16C 8PR 113/111R DEESTONE PAYAK R402
225/75 R16C 8PR 116/114R DEESTONE PAYAK R402
Malaysia's One Stop Tyre Solution
Deestone Payak R402 is available from Cooperteams Distribution, an authorized Malaysia Deestone tyre distributor based in Shah Alam, Selangor, West Malaysia. We distribute and supply the full range of Deestone tyres throughout central West Malaysia including Kuala Lumpur and Selangor; southern West Malaysia including Johor, Negeri Sembilan and Melaka (Malacca); northern West Malaysia including Perak, Kedah and Pulau Pinang (Penang); and eastern West Malaysia including Pahang, Kelantan and Terengganu:
Deestone passenger car radial (PCR) tyres
Deestone ultra-high performance (UHP) tyres
Deestone SUV/4x4 tyres
Deestone commercial van/ultra-light truck (ULT) tyres
Deestone commercial light truck (LT) tyres
Deestone truck & bus radial (TBR) tyres
Deestone farm & agricultural implement off-the-road (OTR) tyres
Deestone forklift/tractor/industrial off-the-road (OTR) tyres
Deestone construction/earthmoving off-the-road (OTR) tyres
Deestone ATV, golf cart/buggy, go cart & wheel-barrow specialty off-the-road (OTR) tyres
Browse our Products or Contact us for more details on Deestone products.
About Deestone
Deestone was founded in Thailand in 1977 and is today, the country's largest Thai-owned tyre production facility with international distribution in more than 120 countries worldwide. Deestone manufactures a wide segment of quality tyres to meet market-specific requirements with high production standards and global certifications including ISO, DOT, E-mark, TUV NORD, SIRIM, MS and more.
Links
https://www.deestone.com/Tyre-Search/Radial/SUV/R402.aspx#.YzaCBXZBxD8
Size Compatibility
205/70 R15C 8PR 106/104Q DEESTONE PAYAK R402
Comaca Rambo S5 / S2000
Dodge Grand Caravan
Fort E10 R000 Legend Work Vehicle
Mitsubishi Delica Van
Nissan Caravan
Toyota Hiace Regius
215/70 R15C 8PR 109/107R DEESTONE PAYAK R402
Citroen Jumper 30, 33 & 35
Ford Transit Small Van
Isuzu D-Max 1.9L 4x2 MT Low-Ride
JMC Baodian Pickup
Karmann Mobil Van Davis 540 Trendstyle/Lifestyle
Karmann Mobil Van Dexter 540
Mahindra Genio
205/75 R16C 8PR 110/108R DEESTONE PAYAK R402
Altas Novus Ecoline Bus
Isuzu Forward 4x2 NMR 250 AMT / N35 120(T) 3.5T GVW
Isuzu M21 Heavy 3.5t / M55 OBD-D 5.5t / Pickup
Volkswagen Crafter CR35 LWB Diesel RWD
215/65 R16C 8PR 109/107R DEESTONE PAYAK R402
Ford Transit 2.2L Panel Van MT
Ford Transit Van Leader / Trend / Limited
Peugeot Expert Van City Short Manual / Pro Short Auto
Peugeot Expert Van Pro Long Manual / Pro Long Auto
Southeast Dodge Caravan
Volkswagen Transporter Chassis/D-Cab / Multivan
215/75 R16C 8PR 113/111R DEESTONE PAYAK R402
Avevai Iona Van Series
C.A.M Placer-X Van / Kingo Plus Van / Kingo Van
Citroen Jumper 4-35
Ford Transit Window/Panel Van 2.2 Diesel
Fiat Ducato MWB LR/MR Van / LWB MR Van / XLWB MR Van
Karsan Minibus Jest+ / Jestronic
LDV V80 Van
225/75 R16C 8PR 116/114R DEESTONE PAYAK R402
Citroen Relay 35 Heavy & 40 Heavy Panel Vans & Chassis Cabs
Eura Mobil Prime Time Van V 595 HB / V 635 EB / V 635 HB
Fiat Ducato Van Manual MAXI 42,5q / Auto MAXI 42,5q
Hako Citymaster 2250
Karmann Mobil Van Davis 590 Trendstyle/Lifestyle
Karmann Mobil Van Dexter 580 / 625
* Always refer to your vehicle manual for specifications in your region