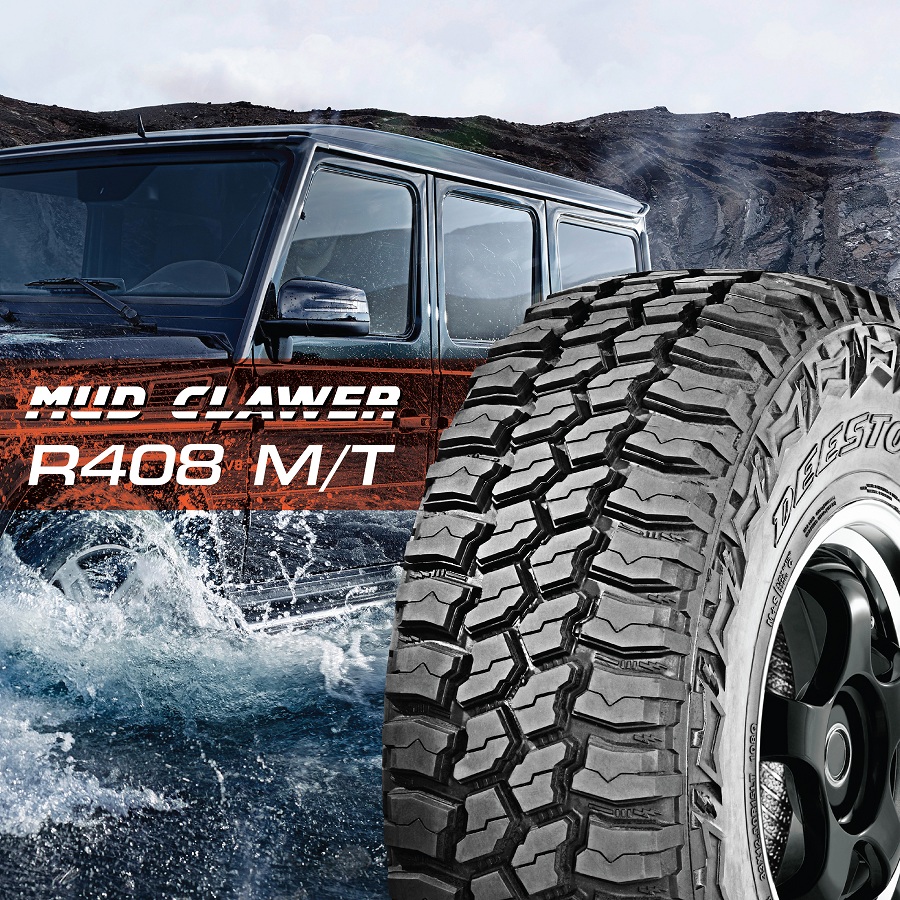 Deestone Mud Clawer R408 4x4 / SUV Tyres
The Deestone Mud Clawer R408 is a 4x4 and sports utility vehicle (SUV) tyre from Deestone, Thailand's largest Thai-owned tyre producer. It recently made its appearance at a major Asian tyre trade show, Tyreexpo Asia – Asia's leading exhibition for tyres, automotive repair equipment, tools, parts and accessories – adding to Deestone's increasing regional and global reputation as a trusted producer of affordable quality tyres.
Affordable Quality
Since its introduction in Malaysia by Deestone tyre wholesaler, Cooperteams Distribution, the Mud Clawer R408 has steadily gained the confidence of both 4x4/SUV tyre consumers and tyre dealers throughout Malaysia. Positive market feedback on the Mud Clawer R408's quality coupled with its competitive pricing is evident from strong demands for its various tyre size segments such as LT245/75 R16 tyres and 31X10.5 R15 tyres.
Rugged Design
The rugged Mud Clawer R408 features a larger and more aggressive mud terrain tread pattern design that not only provides superior traction performance but also improves its durability with a longer wear life even in the toughest off-road terrains.
Off-Road Performance
In 2017, the Mud Clawer R408's rugged pedigree was put to the test in a grueling ten-day Rainforest Challenge (RFC) Malaysia Grand Finals, a motor racing event rated among the top 10 toughest off-road races in the world.
Throughout the race, Deestone Philippines collaborated with RFC Philippine team to fit Deestone Mud Clawer R408 tyres on two of RFC Philippine team's support crew vehicles – a Land Rover Discovery and Land Rover Defender – carrying vital supplies and necessities on the unforgiving trails of the Pahang rainforest in Malaysia.
Despite a six-year absence from the Challenge, the entire underdog RFC Philippine team finished the tough race with only 24 finishers among 40 starters. According to Deestone Philippines, it was a testament to the Mud Clawer R408's rugged design that the support crew was able to withstand the extreme conditions of the race.
Common Sizes
LT245/75R16 10PR 120/116Q Deestone Mud Clawer R408 M/T BSW
LT265/75R16 10PR 123/120Q Deestone Mud Clawer R408 M/T BSW
LT285/75R16 10PR 126/123Q Deestone Mud Clawer R408 M/T BSW
LT265/70R17 10PR 121/118Q Deestone Mud Clawer R408 M/T BSW
31X10.5 R15 6PR 109Q Deestone Mud Clawer R408 M/T BSW
33X12.5 R15 6PR 108Q Deestone Mud Clawer R408 M/T BSW
33X12.5 R18 10PR 118Q Deestone Mud Clawer R408 M/T BSW
35X12.5 R20 10PR 121Q Deestone Mud Clawer R408 M/T BSW
Deestone – Move The World
Deestone Mud Clawer R408 is available from Cooperteams Distribution, an official Malaysia Deestone tyre distributor, tyre supplier and tyre wholesaler based in Shah Alam, Selangor, Peninsula West Malaysia.
We distribute and supply a range of Deestone 4x4 and SUV tyres throughout central Peninsula West Malaysia including Kuala Lumpur and Selangor; southern Peninsula West Malaysia including Johor, Negeri Sembilan and Melaka (Malacca); northern Peninsula West Malaysia including Perak, Kedah and Pulau Pinang (Penang); and eastern Peninsula West Malaysia including Pahang, Kelantan and Terengganu.
Browse our Products or Contact us for more details on Deestone products.
About Deestone
Deestone is a Thai tyre manufacturer founded in 1977 and based in Om Noi, Samut Sakhon in Thailand. It is the country's largest Thai-owned tyres production facility, running five plants and subsidiaries in Samut Sakhon and Nakhon Pathom.
In 2015, Deestone had a total investment of around 10 billion baht with production capacity for radial tyres for more than 10 million units. Deestone manufactures numerous products such as radial tyres, motorcycle tyres, truck tyres, bicycle tyres, agricultural tyres etc.
Deestone's business philosophy "Integrity, Honesty and Accountability" has resulted in the company forming a worldwide reputation which qualifies with global standards and trusted by more than 120 countries.
With over 40 years of experience, Deestone has been producing quality tyres, while continuously developing every product to the highest standard. All Deestone products service various market segments which consist of high standards of production and certified with global standards.
Source
https://www.deestone.com/Tyre-Search/Radial/SUV/R408.aspx#.XdNUzNUzaUk
https://www.tyremanmagazine.com/latest-news/posts/2019/july/new-addition...
https://realworlddrive.wordpress.com/2018/02/07/philippines-returns-to-r...