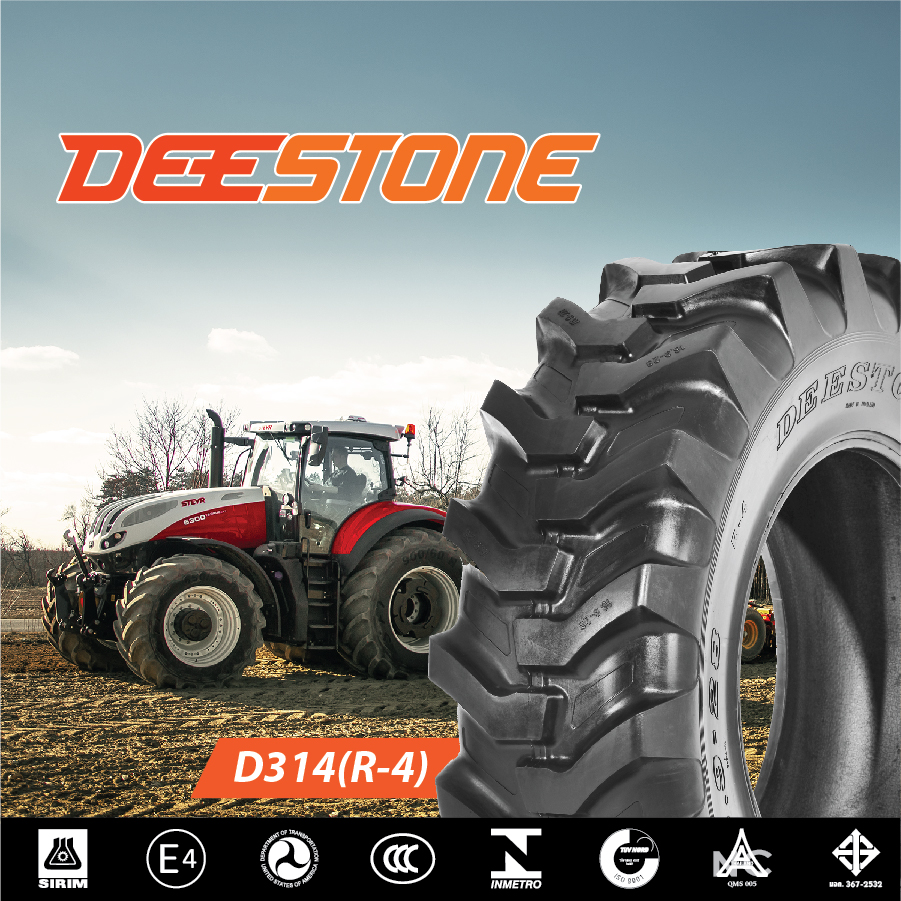 Deestone D314 R-4 Industrial Tractor Tyres
The Deestone D314 is an R-4 industrial tractor tyre for industrial and construction sector applications from Thailand's largest Thai-owned tyre producer, Deestone. With its extra-wide tractive lugs and rugged design, the D314 industrial tractor bias tyre equips your workhorse tractors to take on heavy loads on demanding jobsites.   
Deestone D314 Tyre
The Deestone D314 is distributed in West Malaysia by Malaysian tyre distributor, Cooperteams Distribution and is part of Deestone's series of off-the-road (OTR) tyres ranging from industrial tyres to agricultural and specialty tyres.   
As industries forge ahead to support vital infrastructure developments throughout the peninsular, the D314's competitive edge in West Malaysia markets is further bolstered by Deestone's reputation as a trusted producer of affordable quality and industry-oriented tyres – such as its popular and cost-effective 16.9-24, 16.9-28 and 19.5L-24 tyres: 
Extra-Wide Lugs
The Deestone D314's industrial R-4 tread pattern features extra wide, sturdy and overlapping lugs designed specifically for industrial and construction operations. 
Tough Carcass
The Deestone D314 comprise of a strong nylon casing that ensures excellent durability and stability.
Advanced Compound
The Deestone D314 features advanced tread compound that provides greater chip and wear resistance.
Common Sizes
16.9-24 10PR DEESTONE D314
16.9-28 12PR DEESTONE D314
19.5L-24 12PR DEESTONE D314
17.5L-24 12PR DEESTONE D314
Cooperteams – One Stop Tyre Solution
Deestone D314 is available from Cooperteams Distribution, an authorized Malaysia Deestone tyre distributor based in Shah Alam, Selangor, West Malaysia. We distribute and supply the full range of Deestone tyres throughout central West Malaysia including Kuala Lumpur and Selangor; southern West Malaysia including Johor, Negeri Sembilan and Melaka (Malacca); northern West Malaysia including Perak, Kedah and Pulau Pinang (Penang); and eastern West Malaysia including Pahang, Kelantan and Terengganu:
Deestone passenger car radial (PCR) tyres
Deestone SUV/4x4 tyres
Deestone light truck (LT)/ultra-light truck (ULT) tyres
Deestone truck & bus radial (TBR) tyres
Deestone farm & agricultural implement off-the-road (OTR) tyres
Deestone industrial tractor/implement off-the-road (OTR) tyres
Deestone ATV, golf cart, go cart & wheel barrow specialty off-the-road (OTR) tyres
Browse our Products or Contact us for more details on Deestone products.
About Deestone
Deestone is a Thailand tyre producer founded in 1977 and is today, the country's largest Thai-owned tyre production facility with tyre distribution in more than 120 countries worldwide. Based in Samut Sakhon, Deestone manufactures a wide segment of quality tyres – from passenger tyres to truck and bus tyres and off-the-road tyres – that meet market-specific applications and requirements with high production standards and global certifications.     
Links
https://www.deestone.com/Tyre-Search/Bias/OFF-THE-ROAD/INDUSTRIAL-TRACTO...