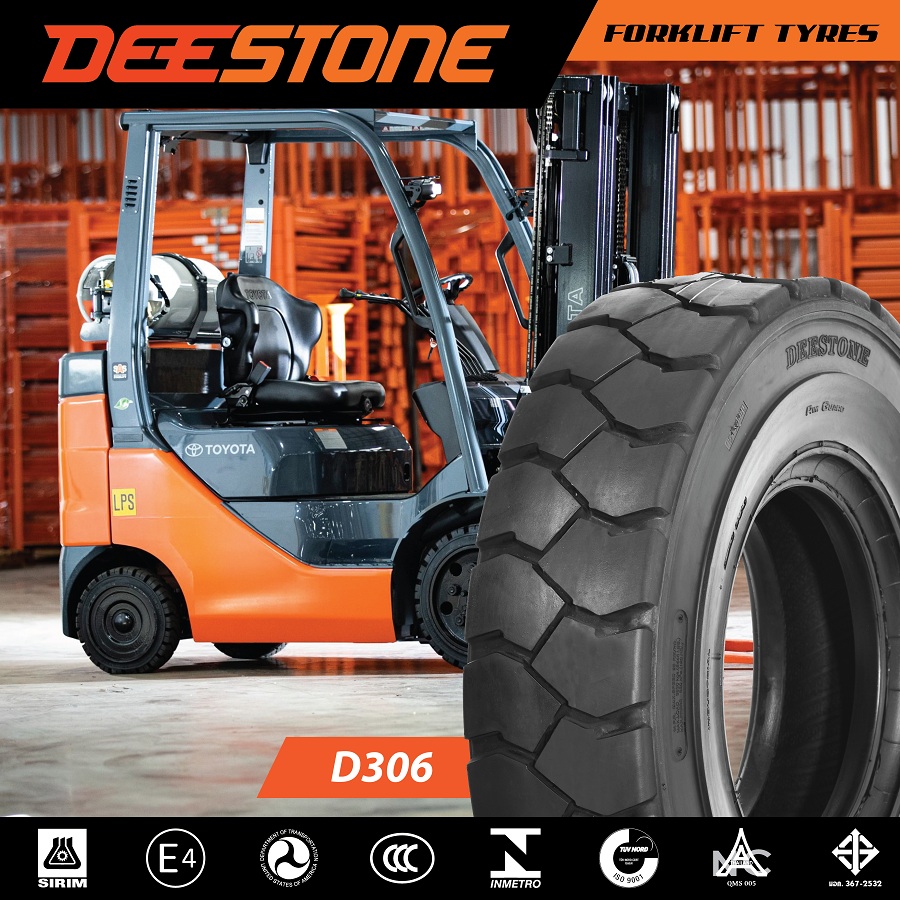 Deestone D306 Forklift Tyres
The Deestone D306 from Thailand's largest Thai-owned tyre company is a specially-designed tyre for forklifts and material handling equipments – offering robust performance to ensure goods and material flow operations run smoothly on the jobsite. 
Whether in logistics warehouses or manufacturing facilities, the D306 bias-ply tyre handles lifting tasks reliably with its durable tread and heavy-duty sidewall to keep productivity and safety moving on the right track.
Deestone D306 Tyre      
The D306 is distributed in West Malaysia by Malaysian tyre distributor, Cooperteams Distribution and is part of Deestone's affordable and globally certified off-the-road (OTR) tyres ranging from material handling to industrial and specialty tyres.  
Designed with longer tread life and tyre protection, the Deestone D306 forklift tyre is compatible as standard/optional fitments on a variety of forklifts from Toyota, Mitsubishi, BT, Linde, Caterpillar, Komatsu, Hyster, Jungheinrich and more.   
Durable Tread
The Deestone D306's deep tread offers longer tread life and minimizes risk of puncture while its advanced tread compound provides greater resistance against chips and tears.
 
Heavy-Duty Sidewall
The Deestone D306's heavy-duty sidewall features rim guard to protect against damages.
 
Common Size
7.00-15 (29x8-15) DEESTONE D306 (refer below)
7.00-12 DEESTONE D306 (refer below)
8.25-15 DEESTONE D306 (refer below)
8.15-15 (28x9-15) DEESTONE D306 (refer below)
6.50-10 DEESTONE D306 (refer below)
Malaysia's One Stop Tyre Solution
Deestone D306 is available from Cooperteams Distribution, an authorized Malaysia Deestone tyre distributor based in Shah Alam, Selangor, West Malaysia. We distribute and supply the full range of Deestone tyres throughout central West Malaysia including Kuala Lumpur and Selangor; southern West Malaysia including Johor, Negeri Sembilan and Melaka (Malacca); northern West Malaysia including Perak, Kedah and Pulau Pinang (Penang); and eastern West Malaysia including Pahang, Kelantan and Terengganu:
Deestone passenger car radial (PCR) tyres
Deestone SUV/4x4 tyres
Deestone light truck (LT)/ultra-light truck (ULT) tyres
Deestone truck & bus radial (TBR) tyres
Deestone farm & agricultural implement off-the-road (OTR) tyres
Deestone forklift/tractor/industrial off-the-road (OTR) tyres
Deestone ATV, golf cart/buggy, go cart & wheel barrow specialty off-the-road (OTR) tyres
Browse our Products or Contact us for more details on Deestone products.
About Deestone
Deestone was founded in Thailand in 1977 and is today, the country's largest Thai-owned tyre production facility with tyre distribution in more than 120 countries worldwide. Deestone manufactures a wide segment of quality tyres to meet market-specific requirements with high production standards and global certifications including ISO, DOT, E-mark, TUV NORD, SIRIM, MS and more.
Size Reference
7.00-15 (29x8-15) DEESTONE D306
BT:
Front - C4G300T / C4D300T / C4G350T / C4D350T / C4D400E / C4D450E
Mitsubishi:
Dual - FB40(C)2 / FB45(C)2 / FB502 / FB40S2 / FB50S2
Toyota:
Dual - 8FG35N / 8FD35N / 8FG40N / 8FD40N / 8FG/DF30 / 8FG/DJF35
7.00-12 DEESTONE D306
BT:
Front - C4G200T / C4D200T / C4G250T / C4D250T / C4D250D / C4G250D / C4D300D / C4G300D / C4D350D / C4G350D
Caterpillar:
Front - DP20N3 / DP25N3 / GP20N / GP25N / DP20N / DP25N
Rear - DP40N3 / DP45N3 / DP50CN3 / DP50N3 / DP40N / DP45N / GP40N3 / GP45N3 / GP50CN3 / GP50N3 / GP40N / GP45N / GP50CN / GP50N / GP55N / DP50CN / DP50N / DP55N / DP40N / DP45N / DP50CN / DP50N / DP55N / GP40N / GP45N / GP50CN / GP50N / GP55N / P8000 / PD8000 / P9000 / PD9000 / PD9000 / P10000 / PD10000 / P11000 / PD11000 / P12000 / PD12000
Crown:
Dual - C51050-40 / C51050-50 / C5-1055-50
Rear - CD35S-7 / CD40S-7 / CD45S-7 / CD50C-7 / CD55C-7 / CG35S-7 / CG40S-7 / CG45S-7 / CG50C-7 / CG55C-7
Hyster:
Front - H2.0TX / H2.5TX / H2.0XT / H2.5XT / H2.0UT / H2.5UT / H40FT / H50FT
Rear - H90XL2 / H100XL2 / H110XL2
Hyundai:
Front - 20DT-7 / 25DT-7 / 25LF-7
Rear - 35L-7A / 40L-7A / 45L-7A / 50L-7A
Jungheinrich:
Front - DFG425s / DFG425 / TFG425
Rear - TFG 540 / TFG545 / TFGS50
Komatsu:
Front - FG20-17 / FD20-17 / FG25-17 / FD25-17 / FG25H-17 / FD25H-17
Rear - CX50 FD40ZYT-10 / FD35YT-10 / FD40YT-10 / FD45YT-10 / FD50AYT-10 / CX50 FG40ZT-10 / FG35T-10 / FG40T-10 / FG45T-10 / FG50AT-10 / FH40-1 / FH45-1 / FH50-1 / FH35-2 / FH40-2 / FH45-2 / FH50-2
Mitsubishi:
Front - FD20N3 / FD25N3 / FG20N / FG25N / FD20N / FG25N / FD25N / FD20NT / FD25NT
Rear - FD40N3 / FD45N3 / FD50CN3 / FD50N3 / FG40N3 / FG45N3 / FG50CN3 / FG50N3 / FG40N / FD40N / FG45N / FD45N / FG50CN / FD50CN / FG50N / FD50N / FG55N / FD55N / FD40K / FG40K / FD40KL / FG40KL / FD45K / FG45K / FD50K / FG50K
Still:
Rear - RC42-40 / RC42-50
Sumitomo:
Front - 11FD20PAXIII-AD / 11FG20PAXIII-AG / 11FL20PAXIII-AL / 11FT20PAXIII-AT / 11FD20PAXIII-BD / 11FG20PAXIII-BG / 11FL20PAXIII-BL / 11FT20PAXIII-BT / 11FD25PAXIII-AD / 11FG25PAXIII-AG / 11FL25PAXIII-AL / 11FT25PAXIII-AT / 11FD25PAXIII-BD / 11FG25PAXIII-BG / 11FL25PAXIII-BL / 11FT25PAXIII-BT
Tailift:
Front - FD20 / Fg20 / Fd25 / FG25
Toyota:
Front - 8FGU20 / 8FDU20 / 8FGU25 / 8FDU25 / 30-8FG20 / 32-8FG20 / 60-8FD20 / 62-8FD20 / 70-8FD20 / 72-8FD20 / 30-8FG25 / 32-8FG25 / 60-8FD25 / 62-8FD25 / 70-8FD25 / 72-8FD25 / 40-7FB20 / 40-7FB25 / 8FGU20 / 8FDU20 / 8FGU25 / 8FDU25 / 02-8FGF20 / 02-8FDF20 / 52-8FDF20 / 02-8FGF25 / 02-8FDF25 / 52-8FDF25 / 42-7FGF20 / 02-7FDF20 / 62-7FDF20 / 42-7FGF25 / 02-7FDF25 / 62-7FDF25
Rear - 8FG35U / 8FD35U / 8FG40U / 8FD40U / 8FG45U / 8FD45U / 8FG50U / 8FD50U / 40-8FD35N / 8FG35N / 40-8FD40N / 8FG40N / 40-8FD45N / 8FG45N / 40-8FD50N / 8FG50N / 7FG35 / 02-7FG35 / 7FD35 / 02-7FD35 / 42-7FD35 / 7FGK40 / 02-7FGK40 / 7FDK40 / 02-7FDK40 / 7FG40 / 02-7FG40 / 7FD40 / 02-7FD40 / 42-7FD40 / 7FG45 / 02-7FG45 / 7FD45 / 02-7FD45 / 42-7FD45 / 02-7FGA50 / 02-7FDA50 / 42-7FDA50 / 7FGU35 / 7FDU35 / 7FGKU40 / 7FDKU40 / 7FGU45 / 7FDU45 / 7FGAU50 / 7FDAU50 / 02-7FG35 / 42-7FD35 / 02-7FG40 / 42-7FD40 / 02-7FG45 / 42-7FD45 / 02-7FGA50 / 42-7FDA50
Yale:
Front - GP/GLP20RK / GDP20RK / GP/GLP20TK / GDP20TK / GP/GLP25RK / GDP25RK / GP/GLP25TK / GDP25TK / GDP20UX / GDP25UX / GLP20UX / GLP20UX / GLP25UX / GLP25UX
Rear - ERP080VM / ERP090VM / ERP100VM
8.25-15 DEESTONE D306
BT:
Front - C4D500E
Caterpillar:
Front & Rear - DP60N3 / DP70N3 / DP70N1
Front - DP40N3 / GP40N3 / GP40N / DP40N / DP40N / GP40N / P8000 / PD8000
Crown:
Front & Rear: CD60S-7 / CD70S-7 / CG60S-7 / CG70S-7
Front - CD35S-7 / CG35S-7
Hyster:
Front & Rear - H135FT / H6.00XL / H7.00XL
Hyundai:
Front & Rear - 60L-7A / 70L-7A
Front - 35L-7A
Jungheinrich:
Front - DFG540s / TFG540s
Komatsu:
Front & Rear - DX50 FD60-10 / FD70-10 / FD80-10 / FH60-2 / FH70-2 / FH80-2
Front - CX50 FD35YT-10 / FG35T-10
Linde:
Front - H70D / H80D / H80/900D / H70T / H80T / H80/900T
Rear - H50D / H60D / H50T / H60T
Mitsubishi:
Front & Rear - FD60N3 / FD70N3 / FD70N1
Front - FD40N3 / EX FG40N3 FG40N / FD40N / FD40K / FG40K
Still:
Front - RX70-70 / RX70-80
Toyota:
Front & Rear - 8FG60U / 8FD60U / 8FG70U / 8FD70U / 8FG80U / 8FD80U / 8FG60N / 40-8FD60N / 8FG70N / 40-8FD70N / 8FG80N / 40-8FD80N / 7FGU60 / 7FDU60 / 7FGU70 / 7FDU70 / 7FGU80 / 7FDU80
Dual - 7FG/7FD40 / 7FG/7FD45 / 7FGA/7FDA50
8.15-15 (28x9-15) DEESTONE D306
BT:
Front - C4G300T / C4D300T
Caterpillar:
Front - DP30N3 / GP30N
Hyster:
Front - H60FT / H70FT / H60XM
Hyundai:
Front - 30DT-7 / 33DT-7 / 30LF-7 / 33LF-7
Komatsu:
Front - FG30-17 / FD30-17 / FD30H-17
Mitsubishi:
Front - FD30N3 / FG30N / FD30NT / FG30NT / FD30N / FG30N
Tailift:
Front - FD30 / FG30 / FD35 / FG35
Toyota:
Front - 8FGU30 / 8FDU30 / 8FGU32 / 8FDU32 / FD3.0 / 7FB30 / 7FBJ35 / 02-8FGF30 / 02-8FDF30 / 52-8FDF30 / 02-7FGF30 / 02-7FDF30 / 62-7FDF30
Yale:
Front - GP/GLP30TK / GDP30TK / GP/GLP35TK / GDP35TK / GDP30UX / GDP30UX / GDP35UX / GDP35UX / GLP30UX / GLP35UX
Rear - ERP100VML / ERP110VM / ERP120VM
6.50-10 DEESTONE D306
BT:
Front - C4G150T / C4D150T / C4G180T / C4D180T / C4D150D/ C4G150D / C4D180D / C4G180D / C4D200D / C4G200D
Rear - C4G300T / C4D300T / C4G350T / C4D350T / C4D250D / C4G250D / C4D300D / C4G300D / C4D350D / C4G350D
Caterpillar:
Front - GP15N / GP18N
Rear - DP30N3 / DP35N3 / GP30N / GP35N / DP30N / DP33N / DP35N / GP28N / GP30N / GP33N / GP35N
Crown:
Rear - C51050-60 / C51050-65 / C51055-65
Hyster:
Rear - H3.0TX / H3.5TX / H3.0XT / H3.0UT / H3.5UT / H60FT / H70FT / H60XM
Hyundai:
Rear - 20DT-7 / 25DT-7 / 30DT-7 / 33DT-7 / 30LF-7 / 33LF-7
Jungheinrich:
Front - DFG316s / DFG320s / TFG316 / TFG320 / DFG316 / DFG320 / TFG316s / TFG320s
Rear - DFG425s / DFG430s / DFG435s / DFG430 / DFG435 / TFG430 / TFG435
Komatsu:
Front - FG15-21 / FD15-21 / FG15H-21 / FG18-21 / FD18-21 / FG18H-21
Rear - FG30-17 / FD30-17 / FD30H-17 / FG35AT-17 / FD35AT-17
Linde:
Rear - H20/600D / H25D / H20/600T / H25T
Mitsubishi:
Front - FG15N / FG18N / FG20CN / FG15N / FG18N / FD15N / FD18N / FD20CN / FG15N / FG18N / FG20CN
Rear - FG28N / FD28N / FG30N / FD30N / FG33N / FD33N / FG35N / FD35N / ES FG30N / FG35N / FD30N3 / FD35N3 / FD30N / FD35N / FG30N / FG35N
Still:
Front - RC42-15 / RC42-18 / RC42-20
Rear - RC42-25 / RC42-30 / RC42-35
Sumitomo:
Rear - 13FD30PAXIII-BD / 13FG30PAXIII-BG / 13FL30PAXIII-BL / 13FT30PAXIII-BT
Tailift:
Front - FD15 / FG15 / FD18 / FG18
Rear - FD30 / FG30 / FD35 / FG35
Toyota:
Front - 8FGU15 / 8FDU15 / 8FGU18 / 8FDU18 / 30-8FG15 / 32-8FG15 / 60-8FD15 / 62-8FD15 / 02-8FGF15 / 02-8FDF15 / 02-8FGF18 / 02-8FDF18 / 42-7FGF15 / 02-7FDF15 / 42-7FGF18 / 02-7FDF18
Rear - 8FGU30 / 8FDU30 / 8FGU32 / 8FDU32 / 30-8FG30 / 32-8FG30 / 60-8FD30 / 62-8FD30 / 70-8FD30 / 72-8FD30 / 7FB30 / 7FBJ35 / 02-8FGF30 / 02-8FDF30 / 52-8FDF30 / 02-8FGJF35 / 52-8FDJF35 / 02-7FGF30 / 02-7FDF30 / 62-7FDF30 / 02-7FGJF35 / 02-7FDJF35
Yale:
Rear - GP/GLP30TK / GDP30TK / GP/GLP35TK / GDP35TK / GDP30UX / GDP30UX / GDP35UX / GDP35UX / GLP30UX / GLP35UX
Links
https://www.deestone.com/Tyre-Search/Bias/OFF-THE-ROAD/FORKLIFT/D306-(1).aspx#.X1LaFNwzaUk