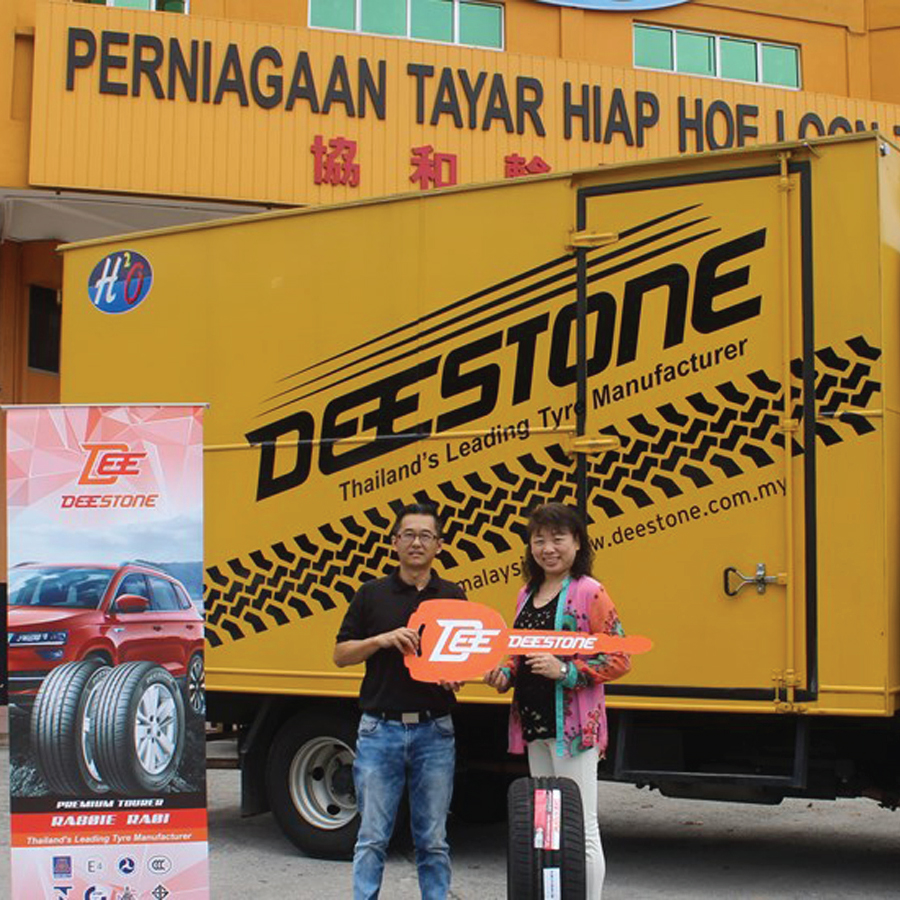 Deestone to Continue Expanding Footprint in Malaysia
Deestone was established more than 30 years ago and is currently the Number 1 local brand in Thailand. Cooperteams Distribution Sdn Bhd is the authorised distributor for Deestone tyres in Malaysia. Today, Deestone Ltd has a complete product range that serves all kinds of vehicles, including passenger cars, 4x4s, trucks, buses, agriculture and industrial vehicles, motorcycles and bicycles.
Deestone's superior product quality is clearly proven in the international market as it exports to more than 80 countries with the United States, Middle East and Asia as its biggest markets.
Cooperteams Distribution Area Sales Manager Shua Keh Heng said the company would continue introducing good products, excellent services and support to its dealers.
The support includes dealer incentives trips and programmes. Two of the dealers awarded incentive trips are Hiap Hoe Loon Tai Sdn Bhd, based in Klang, and Ming Wai Car Motor Services that is based in Senawang, Negeri Sembilan.
Hiap Hoe Loon Tai, one of the largest tyre shops in Klang, provides a wide range of tyres and rims. Financial controller Tan Saw Cheng said the company started selling Deestone tyres from the end of 2014. At that time, it started by selling only the PCR range. Today, it had expanded to selling a full range of Deestone tyres that included 4x4, SUV, light truck and TBR tyres.
"The main unique point for Deestone is its continuous quality improvement and new product developments. Over these four years, the sales had improved tremendously. And the tyre pattern is one of the attractions for customers. We are also very happy with the fast response from Cooperteams whenever we face any issues and they carry out many attractive dealer programmes."
Among the strong support that Cooperteams Distribution provides to dealers includes the 3-year sales incentive programme. Hiap Hoe Loon Tai was one of the three companies that qualified and was rewarded with a Super Bonanza Inokom HD5000 truck. The other 2 Super Bonanza achievers were a dealer in Sabah and the other in Sarawak.
Last year, Cooperteams also jointly organised with Hiap Hoe Loon Tai an incentive trip to Thailand that included more than 60 dealers. During the trip, the dealers visited the Deestone tyre plant and got to know more about this brand by seeing the Deestone production line and operations up close. The dealers were excited to find out more about Deestone's marketing plans, especially the development of new UHP sizes.
Tan is optimistic about the Deestone brand. With the increasing brand awareness, she could foresee the potential that it brings in the future.
Cooperteams Distribution Area Sales Manager Shua Keh Heng said: "With the introduction of 2 new patterns, Premium Tourer RA01 and Expedite RA 801E, our dealers are very excited as the tyres are of very innovative designs. Our dealers have tested these new tyres with a positive feedback and received very good response from end-users."
Ming Wai Car Motor Services, a one-stop car service centre, has been selling Deestone tyres since 2015 and it is the main brand for this centre. Director Andy Liaw worked in a tyre shop for 8 years before opening the first outlet in 2014 when he was 24 years old.
"I chose to be a Deestone main dealer because of its good quality and affordable price. After selling Deestone, we found the customer's feedback encouraging. And the tyre pattern is nice."
Liaw said the workshop received full support from Deestone, including marketing and advertisements, signboards, uniforms and incentives programmes.
Cooperteams Distribution believed in taking care of the benefit of its dealers and its strategy included not letting other dealers sell the Deestone brand within the same area. This orderly marketing strategy protected the dealers from a price war, thus giving them more confidence to sell Deestone and make a reasonably good margin.
When the prices of raw materials and tyres went up, Cooperteams Distribution gave more vouchers or rebate to its dealers and created a win-win situation.
"They know the market trend and would come up with strategies when there is an economic downturn, such as providing more gifts like umbrellas and T-shirts to boost sales. It's definitely helping us to attract more new customers."
Initially, Ming Wai Car Motor Services started with a small volume but its business grew steadily because of Deestone products' good quality and reasonable prices. Liaw is also a proud recipient of the incentive trips to Thailand and Korea.
Link to article
https://www.tyremanmagazine.com/latest-news/posts/2018/december/deestone...