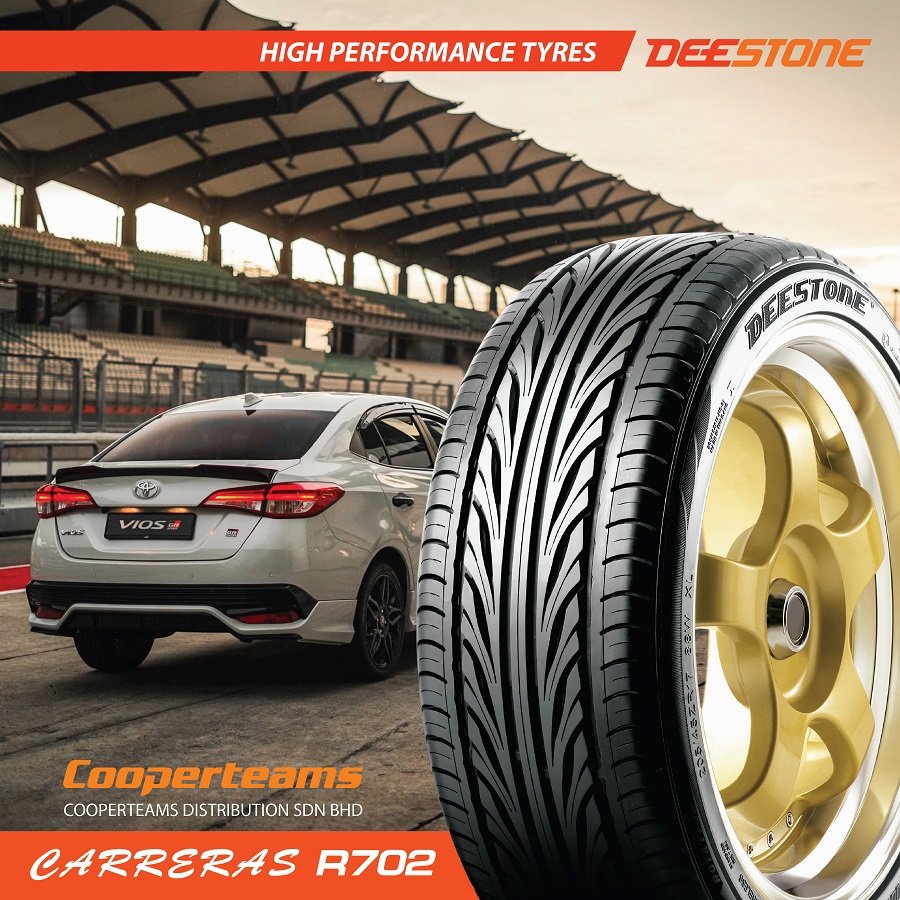 Deestone Carreras R702 High-Performance Tyres
The Deestone Carreras R702 is the distinctive choice of high-performance tyre for motor enthusiasts and sport-oriented drivers that is as capable at turning corners confidently as it is at turning the heads of admirers on Malaysian roads. 
Featuring its striking arrowhead tread design, the unidirectional Carreras R702's sporty aggressive look is matched by efficient handling, stability and all-weather control with rated top speeds of 240 km/h and 270 km/h.
The Carreras R702 series of 15" to 18" sports tyre is part of Deestone's range of cost-effective and affordable-quality passenger car radial (PCR) tyres distributed by Malaysian tyre distributor, Cooperteams Distribution in West Malaysia.
Unidirectional Tread
The Deestone Carreras R702 features optimized, unidirectional arrowhead tread pattern that displaces water efficiently to resist hydroplaning and deliver excellent road holding at high speeds.
Cornering Stability
The Deestone Carreras R702's round shoulder profile enables smoother contact footprint to improve steering stability during cornering in high-performance vehicles.
Responsive Handling
The Deestone Carreras R702's large tread block profile enhances steering responsiveness while its wide centre rib improves handling control and stability.
Available Sizes
195/50 R15 DEESTONE CARRERAS R702
195/55 R15 DEESTONE CARRERAS R702
205/45 R16 DEESTONE CARRERAS R702
205/50 R16 DEESTONE CARRERAS R702
205/40 R17 DEESTONE CARRERAS R702
205/45 R17 DEESTONE CARRERAS R702
205/50 R17 DEESTONE CARRERAS R702
215/45 R17 DEESTONE CARRERAS R702
215/55 R17 DEESTONE CARRERAS R702
245/45 R18 DEESTONE CARRERAS R702
Malaysia's One Stop Tyre Solution
Deestone Carreras R702 is available from Cooperteams Distribution, an authorized Malaysia Deestone tyre distributor based in Shah Alam, Selangor, West Malaysia. We distribute and supply the full range of Deestone tyres throughout central West Malaysia including Kuala Lumpur and Selangor; southern West Malaysia including Johor, Negeri Sembilan and Melaka (Malacca); northern West Malaysia including Perak, Kedah and Pulau Pinang (Penang); and eastern West Malaysia including Pahang, Kelantan and Terengganu:
Deestone passenger car radial (PCR) tyres
Deestone ultra-high performance (UHP) tyres
Deestone SUV/4x4 tyres
Deestone light truck (LT)/ultra-light truck (ULT) tyres
Deestone truck & bus radial (TBR) tyres
Deestone farm & agricultural implement off-the-road (OTR) tyres
Deestone forklift/tractor/industrial off-the-road (OTR) tyres
Deestone ATV, golf cart/buggy, go cart & wheel-barrow specialty off-the-road (OTR) tyres
Browse our Products or Contact us for more details on Deestone products.
About Deestone
Deestone was founded in Thailand in 1977 and is today, the country's largest Thai-owned tyre production facility with international distribution in more than 120 countries worldwide. Deestone manufactures a wide segment of quality tyres to meet market-specific requirements with high production standards and global certifications including ISO, DOT, E-mark, TUV NORD, SIRIM, MS and more.
Links
https://www.deestone.com/Tyre-Search/Radial/RADIAL-PCR-UHP/R702.aspx#.YT...
Size Compatibility
195/50 R15 DEESTONE CARRERAS R702
Proton Saga BLM / Satria / Wira
195/55 R15 DEESTONE CARRERAS R702
Honda City
Proton Waja / Gen2 / Satria Neo / Persona
Perodua Alza / Myvi
Volkswagen Polo
205/45 R16 DEESTONE CARRERAS R702
Proton Wira SE
205/50 R16 DEESTONE CARRERAS R702
Nissan Almera Impul
205/45 R17 DEESTONE CARRERAS R702
Kia Rio
Mazda MX-5
Nissan Almera Impul
Peugeot 208
Toyota Vios GR-S 1.5
205/50 R17 DEESTONE CARRERAS R702
BMW 1-Series
Nissan Sylphy
215/45 R17 DEESTONE CARRERAS R702
Honda Civic
Hyundai Elantra
Kia Cerato / Forte
Naza Cerato
Lotus Exige (Sport/Cup)
Proton Preve
Subaru BRZ
Toyota Corolla / CT
215/55 R17 DEESTONE CARRERAS R702
Audi Q2 Sport 1.4
Honda Odyssey 2.4L EXV / HR-V 1.8 (E/V)
Hyundai Kona 2.0
Kia Optima
Toyota Innova 2.0X AT
245/45 R18 DEESTONE CARRERAS R702
Audi A6
BMW 4/5/6-Series
Jaguar XF
Mercedes Benz CLS
Volkswagen Arteon
OTHER SIZES
205/40 R17 DEESTONE CARRERAS R702
* Always refer to your vehicle manual for specifications in your region