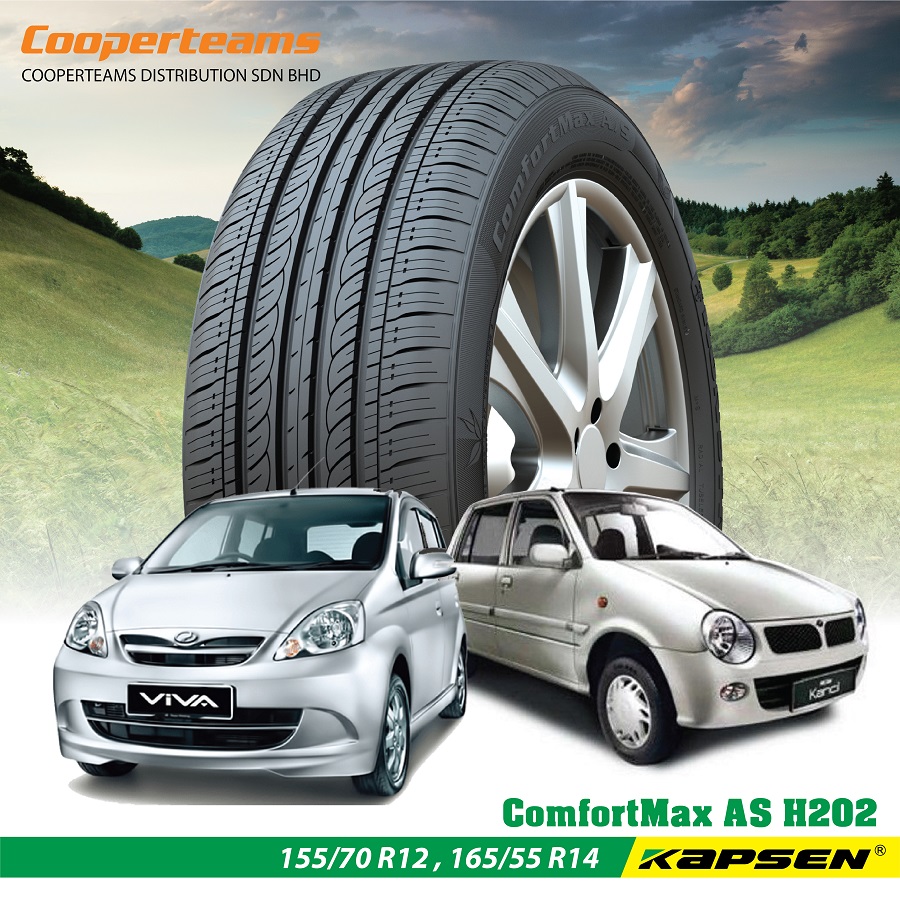 Best-Value Kapsen H202 Tyres for Perodua Kancil & Viva
While no longer manufactured, there remains an avid local community of Perodua Kancil and Perodua Viva owners as evident in the "Mini Super Kcar Mega Gathering" of Perodua compact cars during Boom Festival'23 at Dataran Karnival Stadium Shah Alam earlier in the year. 
The Kapsen ComfortMax AS H202 offers a series of best-value 155/70 R12 and 165/55 R14 passenger car radial (PCR) tyres that are the perfect choice for older Perodua models still on the road today such as Kancil 660EX / 660EXb / 850EX and Viva 660 / 850 / 1000 / Elite.     
Reliable Grip
The Kapsen ComfortMax AS H202 is a fuel-efficient tyre formulated with silica compound to ensure lower rolling resistance for overall driving economy and features a special tread block pattern which enables better road grip for reliable all-season performance.   
Comfortable Driving
The Kapsen ComfortMax AS H202's special tread block pattern also incorporates variable pitch sequence with silent shoulder design to dampen noise transmission, while its tread outline is specially-optimized to provide stable handling for improved driving comfort.  
Malaysia's One Stop Tyre Solution
Kapsen ComfortMax AS H202 is available from Cooperteams Distribution, a Malaysia tyre distributor based in Shah Alam, Selangor, West Malaysia. We distribute and supply Kapsen tyres throughout central West Malaysia including Kuala Lumpur and Selangor; southern West Malaysia including Johor, Negeri Sembilan and Melaka (Malacca); northern West Malaysia including Perak, Kedah and Pulau Pinang (Penang); and eastern West Malaysia including Pahang, Kelantan and Terengganu:
Kapsen passenger car radial (PCR) tyres
Kapsen SUV/4x4/pickup truck tyres
Kapsen commercial van/light truck tyres
Kapsen truck and bus radial (TBR) tyres
Browse our Products or Contact us for more details on Kapsen products.
About Kapsen
Kapsen tyres are manufactured by Shandong Huasheng Rubber, a Chinese tyre producer with annual capacity of 20 million PCR and 8 million TBR tyres that are widely exported to Europe, America, Middle East, Africa and Oceania. Kapsen is part of tyre brand family including Habilead, Huasheng, Taitong and TerraKing that meet manufacturing quality standards from DOT, ECE, ISO9001, ISO14001, GCC, SONCAP, SASO and more.
Links
https://www.kapsentyre.com/product_90_ComfortMaxASH202.html
https://www.nst.com.my/news-cars-bikes-trucks/2023/02/881859/boom-festiv...