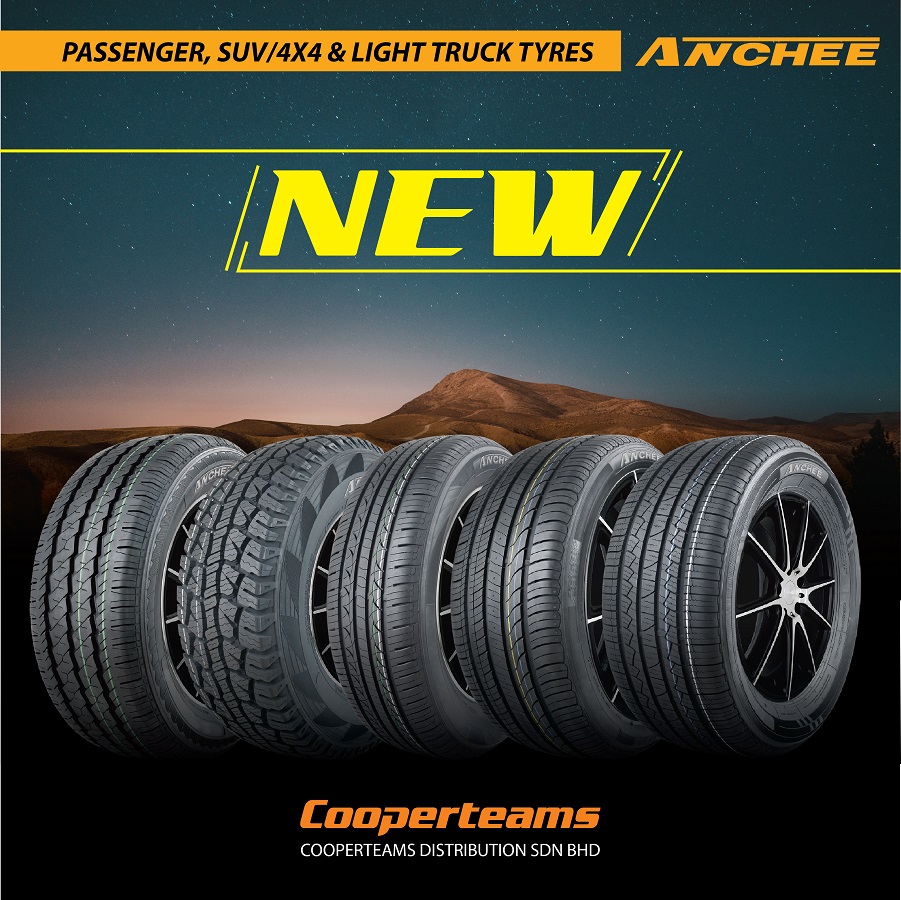 Anchee Passenger Car, SUV/4x4 & Light Truck Tyres
We are pleased to introduce Anchee tyres to the competitive range of best-value passenger car radial (PCR), SUV/4x4 and light truck (LT/ULT) tyres distributed by Malaysia tyre distributor, Cooperteams Distribution in West Malaysia.
Through continuous research and development, Anchee produces safe and comfortable high-performance tyres using advanced low-rolling resistance technology in line with its "Low Carbon, Green, Efficient, Environmentally-Friendly" brand concept.
Anchee is developed by Qingdao Firstreach International under Shandong Xinghongyuan Tyre and Xingyuan Group, a Top 10 Chinese tyre producer with sales reach in over 160 countries and established OEM partnership with Yokohama Tire's technology and quality systems.
Backed by reliable production and testing, cost-effective Anchee tyres are part of a family of reputable tyre brands including Hilo and Annaite that meet global quality standards from DOT, ECE, CCC, INMETRO, GCC, SONCAP, BIS, ISO14001, ISO/TS 16949, OHSAS18001 and more.
ANCHEE PASSENGER (PCR) TYRES
Available in 13" to 20" sizes
AC218
AC708
AC718
AC808
AC818
ANCHEE SUV/4x4 TYRES
Available in 15" to 20" sizes
ANCHEE LIGHT TRUCK TYRES
Available in 13" to 16" sizes
Malaysia's One Stop Tyre Solution
Anchee tyres are available from Cooperteams Distribution, a Malaysian tyre distributor based in Shah Alam, Selangor, West Malaysia. We distribute and supply Anchee tyres throughout central West Malaysia including Kuala Lumpur and Selangor; southern West Malaysia including Johor, Negeri Sembilan and Melaka (Malacca); northern West Malaysia including Perak, Kedah and Pulau Pinang (Penang); and eastern West Malaysia including Pahang, Kelantan and Terengganu:
Anchee passenger car radial (PCR) tyres
Anchee SUV/4x4 tyres
Anchee light truck (LT)/ultra-light truck (ULT) tyres
Browse our Products or Contact us for more details on Anchee products.
About Anchee
Anchee tyres are developed by Shandong Xinghongyuan Tyre, a subsidiary of Xingyuan Group – a Top 10 Chinese manufacturer with annual production capacity of 12 million passenger tyres, 5.8 million radial truck tyres and 200,000 radial OTR tyres. Launched in 2019, Anchee is part of tyre brand family including Hilo, Annaite, Amberstone, Guangda and Xingyuan with certified quality standards from DOT, ISO14001, ISO/TS 16949, OHSAS18001 and more.
Links
http://www.xingyuan-frdept.com/
http://en.xhytyre.com/
http://en.xingyuangroup.com/