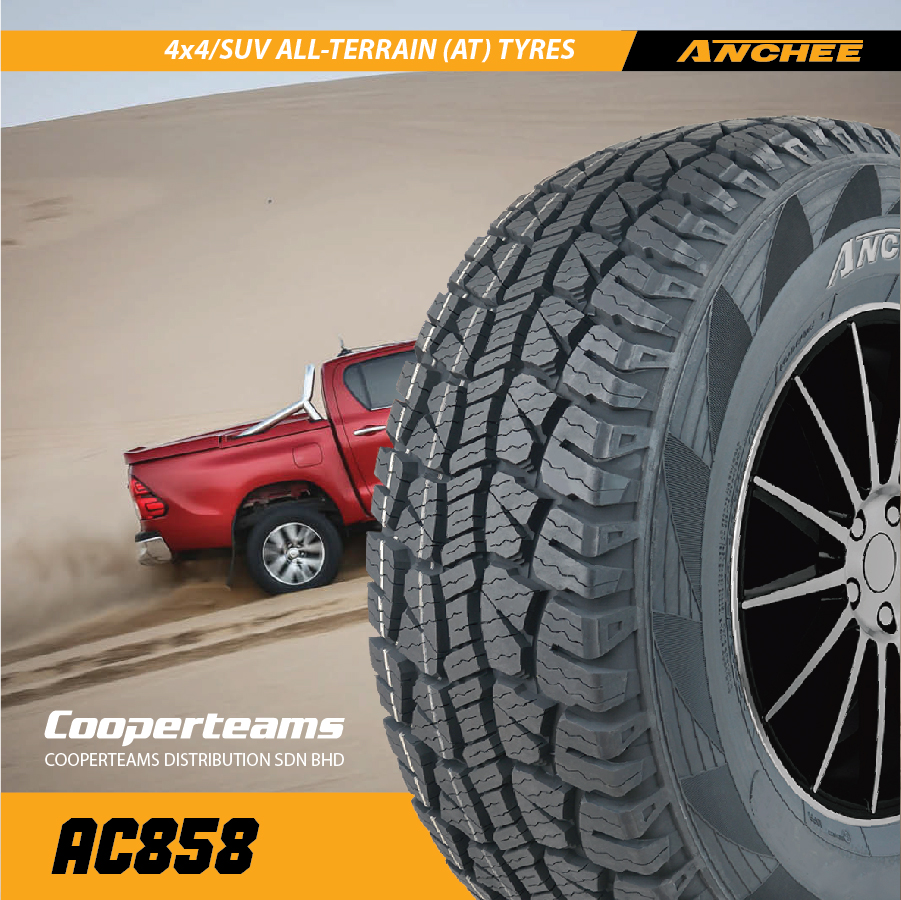 Anchee AC858 4x4/SUV All-Terrain Tyres
The Anchee AC858 is a rugged all-terrain (AT) tyre from Cooperteams Distribution that takes your 4x4/4WD vehicles, utility trucks and SUVs from weekday on-road cruising to weekend off-road four-wheeling with reliable versatility and comfort in varied road conditions.
As urban and outdoor lifestyles coalesce, the AC858 range of 15" to 18" 4x4/SUV AT tyres bridge the needs of both worlds to ensure all-round performance for popular pickup trucks in Malaysia such as Toyota Hilux, Mitsubishi Triton, Isuzu D-Max, Ford Ranger and more.
All-Terrain Capability
The Anchee AC858's four curved grooves enable effective self-cleaning to improve grip on muddy/gravel roads while its wide, open shoulder provides greater lateral rigidity to further enhance traction for better braking capability.
Durable Comfort
The Anchee AC858 incorporates strong carcass with convex sidewall design that ensures high resistance to wear and damage in irregular road conditions, as well as zig-zag sheet steel to strengthen road grip for excellent driving comfort.      
Available Sizes
31x10.50 R15LT ANCHEE AC858
LT215/75 R15 ANCHEE AC858
245/70 R16 ANCHEE AC858
265/70 R16 ANCHEE AC858
LT245/75 R16 ANCHEE AC858
LT265/75 R16 ANCHEE AC858
265/65 R17 ANCHEE AC858
265/60 R18 ANCHEE AC858
Malaysia's One Stop Tyre Solution
Anchee AC858 is available from Cooperteams Distribution, a Malaysia tyre distributor based in Shah Alam, Selangor, West Malaysia. We distribute and supply Anchee tyres throughout central West Malaysia including Kuala Lumpur and Selangor; southern West Malaysia including Johor, Negeri Sembilan and Melaka (Malacca); northern West Malaysia including Perak, Kedah and Pulau Pinang (Penang); and eastern West Malaysia including Pahang, Kelantan and Terengganu:
Anchee passenger car radial (PCR) tyres
Anchee SUV/4x4 tyres
Anchee light truck (LT)/ultra-light truck (ULT) tyres
Browse our Products or Contact us for more details on Anchee products.
About Anchee
Anchee tyres are developed by Shandong Xinghongyuan Tyre, a subsidiary of Xingyuan Group – a Top 10 Chinese manufacturer with annual production capacity of 12 million passenger tyres, 5.8 million radial truck tyres and 200,000 radial OTR tyres. Launched in 2019, Anchee is part of tyre brand family including Hilo, Annaite, Amberstone, Guangda and Xingyuan with certified quality standards from DOT, ISO14001, ISO/TS 16949, OHSAS18001 and more.
Links
https://www.ancheetyre.com/
https://www.xingyuan-frdept.com/cartire-anchee-ac858-ancheetyre.html
Size Compatibility
31x10.50 R15LT ANCHEE AC858
Dodge Ram / Ramcharger
Jeep CJ/TJ Unlimited / Commander XK / Cherokee
Mitsubishi Pajero
Toyota Hilux-wide / Land Cruiser
LT215/75 R15 ANCHEE AC858
Chevrolet Astro Van / Tracker
Dodge Dakota
Ford E Series
Mahindra Bolero Neo
245/70 R16 ANCHEE AC858
Chevy Trail Blazer
Dodge Dakota / Durango
Ford Explorer / Ranger
Foton Bison Savanna
GM Canyon
Honda Passport
Isuzu D-Max / MU-X / Trooper / Rodeo
Jeep Grand Cherokee
Kia Sorento
Mazda BT-50
Mitsubishi Triton / Pajero Sport / Raider
Nissan Navara / Pathfinder
Toyota Tundra / Sequoia
265/70 R16 ANCHEE AC858
Dodge Dakota
Ford F-150 4WD
Mitsubishi Triton / L200 / Pajero / Montero / Raider
Nissan Frontier / NP300 / Navara / Xterra
Suzuki Equator
Toyota Hilux / Fortuner / Tacoma
Toyota Land Cruiser / Prado / Sequoia
ZX Auto Terralord
LT245/75 R16 ANCHEE AC858
Chevrolet Avalanche / Express / Silverado / Suburban
Dodge Sprinter
Ford Ranger / E350
Jeep Wrangler
Toyota Hilux / Tacoma
LT265/75 R16 ANCHEE AC858
Chevrolet K-1500 / 2500 / 3500
Dodge 1500
Ford Ranger / Excursion / F250
Hummer H2 / H3
Nissan Frontier / Xterra
Toyota FJ Cruiser
265/65 R17 ANCHEE AC858
Chevy Colorado
Dodge Dakota
Ford Ranger
GMC Canyon
Lexus GX470
Mazda BT-50
Mitsubishi Triton / Pajero Sport VGT / Montero / Raider
Nissan Frontier / Navara / Pathfinder / Xterra
Suzuki Equator
Toyota Hilux Double Cab / Fortuner 4x4 AT
Toyota Land Cruiser / 4-Runner
265/60 R18 ANCHEE AC858
Ford Ranger / Everest Trend
Isuzu D-Max
Mazda BT-50
Mitsubishi Triton / Pajero
Nissan Frontier
Toyota Hilux Double Cab / Fortuner / Land Cruiser
* Always refer to your vehicle manual for specifications in your region