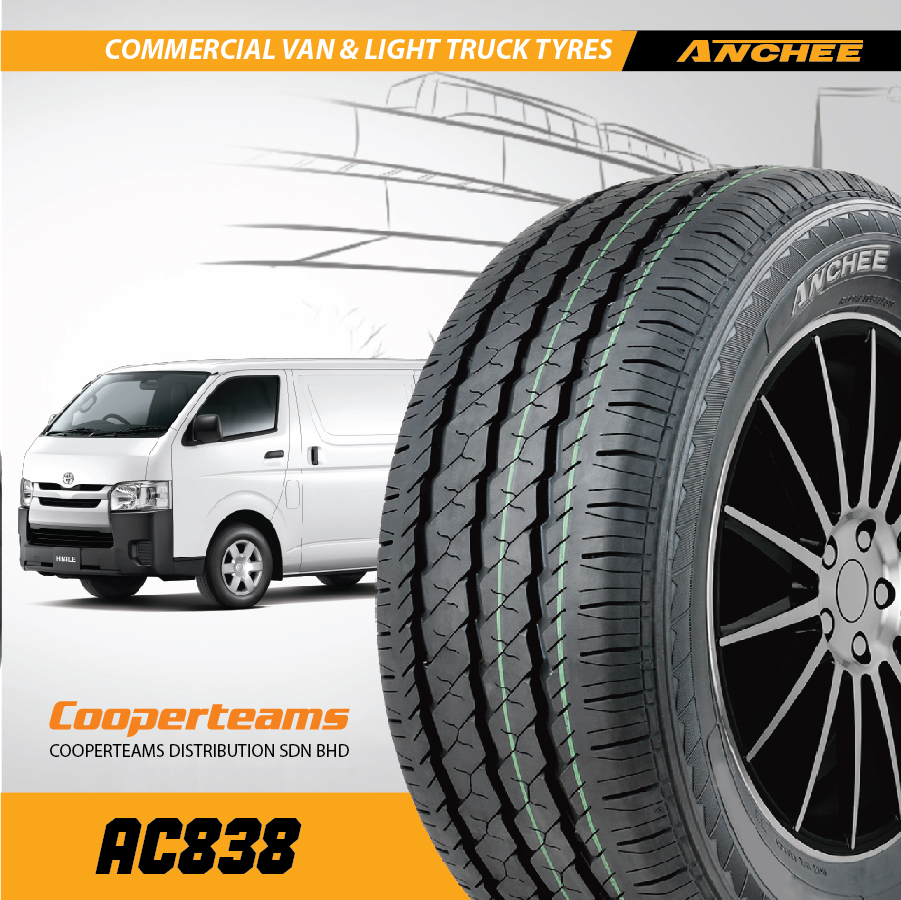 Anchee AC838 Commercial Van & Pickup Truck Tyres
The Anchee AC838 provides savvy business operators with a range of cost-efficient 13C" to 16C" tyres for light commercial vehicles – such as multi-utility vans and pickup trucks – that are designed to perform reliably while maintaining safety on both wet and dry roads. 
Commercially-rated (C-type) for higher load capacities, the Anchee AC838 van/light truck tyre distributed by Cooperteams Distribution fits a wide choice of popular fleet vehicles in Malaysia including Nissan Urvan, Toyota Hiace, Daihatsu Gran Max and Foton View.
Stable Handling
The Anchee AC838 offers controlled stability with large middle blocks and shoulder transverse pattern that also promotes longer mileage while its strengthened structure and reinforced carcass enable higher load capacity.
Greater Grip
The Anchee AC838 delivers excellent road traction characteristics by utilizing a zig-zag tread pattern combined with closed shoulder design that generates greater lateral rigidity for improved grip and braking performance.     
Wet/Dry Driving
The Anchee AC838 provides efficient water draining by incorporating 3 longitudinal grooves for optimal driving in both wet and dry weather conditions as well as increased tyre life resulting from effective side wear prevention.    
Available Sizes
165 R13C 94/93S ANCHEE AC838
185 R14C 8PR 102/100R ANCHEE AC838
195 R15C 8PR 106/104R ANCHEE AC838
205/70 R15C 106/104R ANCHEE AC838
215/70 R15C 8PR 109/107R ANCHEE AC838
215/70 R16C 6PR 108/106R ANCHEE AC838
215/75 R16C 8PR 113/111R ANCHEE AC838
Malaysia's One Stop Tyre Solution
Anchee AC838 is available from Cooperteams Distribution, a Malaysia tyre distributor based in Shah Alam, Selangor, West Malaysia. We distribute and supply Anchee tyres throughout central West Malaysia including Kuala Lumpur and Selangor; southern West Malaysia including Johor, Negeri Sembilan and Melaka (Malacca); northern West Malaysia including Perak, Kedah and Pulau Pinang (Penang); and eastern West Malaysia including Pahang, Kelantan and Terengganu:
Anchee passenger car radial (PCR) tyres
Anchee SUV/4x4 tyres
Anchee light truck (LT)/ultra-light truck (ULT) tyres
Anchee commercial van/pickup truck tyres
Browse our Products or Contact us for more details on Anchee products.
About Anchee
Anchee tyres are developed by Shandong Xinghongyuan Tyre, a subsidiary of Xingyuan Group – a Top 10 Chinese manufacturer with annual production capacity of 12 million passenger tyres, 5.8 million radial truck tyres and 200,000 radial OTR tyres. Launched in 2019, Anchee is part of tyre brand family including Hilo, Annaite, Amberstone, Guangda and Xingyuan with certified quality standards from DOT, ISO14001, ISO/TS 16949, OHSAS18001 and more.
Links
https://www.ancheetyre.com/
https://www.xingyuan-frdept.com/cartire-anchee-ac838-ancheetyre.html
Size Compatibility
165 R13C 94/93S ANCHEE AC838
Daihatsu Gran Max Van
Mitsubishi Veryca 1.2L
Nissan Vanette Van
Toyota LiteAce
185 R14C 8PR 102/100R ANCHEE AC838
Ashok Leyland Dost
Dong Feng Supercab DK15 / C35 Panel Van
Ford Econovan
Kia Pregio Van
Lunar Clubman CK/ES/SB/Si/SR Caravan
Lunar Quasar 462/524/544/574 Caravan
Lunar Taurus 560 / Stellar Caravan
Mitsubishi L300 2.2L Diesel
Nissan Winger / Urvan
Suzuki APV Panel Van
Toyota Hiace (old)
195 R15C 8PR 106/104R ANCHEE AC838
Era Jinbei H2L 2.5 Petrol / 2.5 Turbo Diesel
Foton View CS2 Window Van 2.8 Turbo Diesel
Foton View C2 Window Van 2.0 Petrol / 2.8 Turbo Diesel
Foton View C2 Panel / Semi Panel Van 2.0 Petrol
Isuzu D-Max Single Cab 2.5L (4X2) – Cab Chassis
Mitsubishi Triton Quest M/T 4X2
Mitsubishi Strada GL Cab & Chassis
Nissan Urvan NV350 2.5 Turbo Diesel
Toyota Hiace Panel Van 2.5 Turbo Diesel
Toyota Hiace Cargo / Commuter
205/70 R15C 106/104R ANCHEE AC838
Fiat Ducato
Ford Transit
Foton View G5
Iveco Daily
JAC Refine M4
Toyota Hiace
215/70 R15C 8PR 109/107R ANCHEE AC838
Ford Transit Small Van
Isuzu D-Max 1.9L 4x2 MT Low-Ride
JMC Baodian Pickup
Mahindra Genio
215/70 R16C 6PR 108/106R ANCHEE AC838
Hyundai H-1 Urban 2.4 Mpi Passenger Wagon
Toyota Hiace Commuter Deluxe 2.8L Diesel
Toyota Hiace GDH300R-RCFDY / GDH300R-RCTDY
215/75 R16C 8PR 113/111R ANCHEE AC838
C.A.M Placer-X Van / Kingo Plus Van / Kingo Van
Ford Transit Window/Panel Van 2.2 Diesel
Fiat Ducato MWB LR/MR Van / LWB MR Van / XLWB MR Van
LDV V80 Van
* Always refer to your vehicle manual for specifications in your region