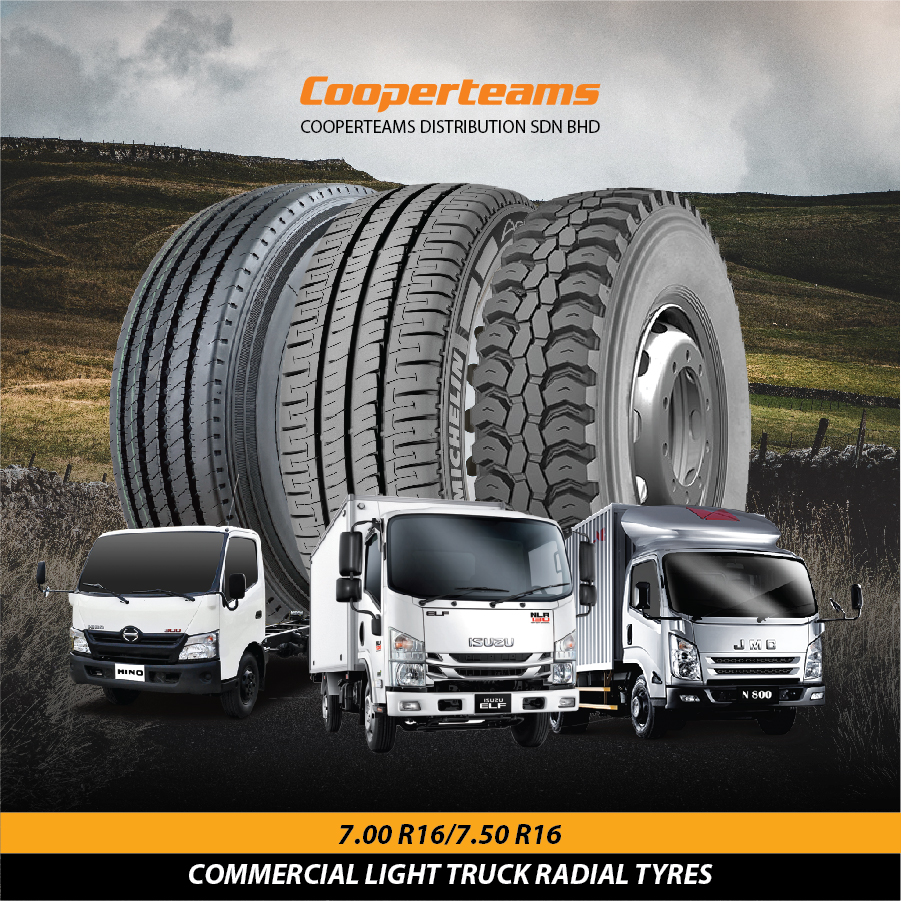 7.00 R16 & 7.50 R16 Light Truck Radial Tyre Solutions
As the evolving economy shapes today's transportation industry, many businesses rely heavily on commercial vehicles such as Isuzu ELF and Hino 300 light trucks to perform a variety of functions including delivering goods, moving materials or even as a mobile office.
Driven by cost benefits from improved radial tyre technologies, modern fleet managers who operate commercial light trucks are able to seek the optimal choice of light truck radial tyre for better vehicle runtimes and fuel economy – yielding smarter returns in the long run.
Light Truck Radial Tyres
Due to their construction, radial tyres developed for light-duty trucks typically achieve greater mileage performance and higher fuel efficiency while offering durable cut-chip resistance combined with enhanced grip in different weather conditions.     
Choose the ideal 7.00 R16 and 7.50 R16 tyres for your commercial trucking needs from a wide range of cost-effective light truck radial (LTR) tyres available in Malaysia: 
7.00 R16LT 12PR ANCHEE AC898
7.00 R16 14PR MEGASTAR MG222
7.50 R16LT 14PR ANCHEE AC898
7.50 R16 16PR MEGASTAR MG222 and more
Malaysia's One Stop Tyre Solution
A wide range of commercial tyres for light trucks, minibuses and transporters are available from Cooperteams Distribution, a Malaysia tyre wholesaler based in Shah Alam, Selangor, West Malaysia. We distribute and supply tyres throughout central West Malaysia including Kuala Lumpur and Selangor; southern West Malaysia including Johor, Negeri Sembilan and Melaka (Malacca); northern West Malaysia including Perak, Kedah and Pulau Pinang (Penang); and eastern West Malaysia including Pahang, Kelantan and Terengganu.
Browse our Products or Contact us for more details.
Size Compatibility
7.00 R16 10PR/12PR/14PR
C.A.M Co-Star 6m City Transporter Bus
C.A.M JMC Potente Light Truck JX104
C.A.M JMC N800 Medium Light Duty Truck JX105A / JX105
Foton Aumark E BJ493ZLQV1-ISUZU / BJ493ZLQV1-ISUZU
Foton Single Cabin Light Truck 3ton
Hyundai County Standard/Long Body Bus
Hyundai HD55S D4DC / D4DB-d / D4GA14
Hyundai HD65 D4AF / D4DB-d / D4DD / D4GA14
Hyundai Mighty EX5 D4DC / D4DB-d
Hyundai Mighty EX6 D4DB13 / D4DD / D4GA15 / D4GA14A
Inokom AD3 Light Truck with Extra-Long Wheelbase
Isuzu ELF NLRPRO NLR55UEE / NLR130 NLR85UEE
Isuzu ELF Small Fire Trucks 2tons
Isuzu Forward NMR 250 AMT 4x2
Isuzu LPG Tank Truck 2tons / Medical Transport Truck
Isuzu Wrecker Trucks / ELF Flatbed Towing Trucks
JMC Carrying 3360 / Carrying Plus 3360
7.50 R16 10PR/12PR/14PR
C.A.M JMC N800 Medium Light Duty Truck JX105A / JX105
Hino Bus Series XZU720R-HKFRL1
Hino 300 Series ToughPlus W04D-TR (WU342R-HKMTJD3)
Hyundai Mighty EX9
Hyundai Mighty EX5 D4DC / D4DB-d
Hyundai Mighty EX8 D4DC / D4DB14 / D4DD / D4GA17
Hyundai HD72 D4DC / D4DB-d / D4DB / D4DD
Hyundai HD78 D4DC / D4DB / D4GA14 / D4GA15
Isuzu ELF NPS 4x4 NPS71UHH
* Always refer to your vehicle manual for specifications in your region