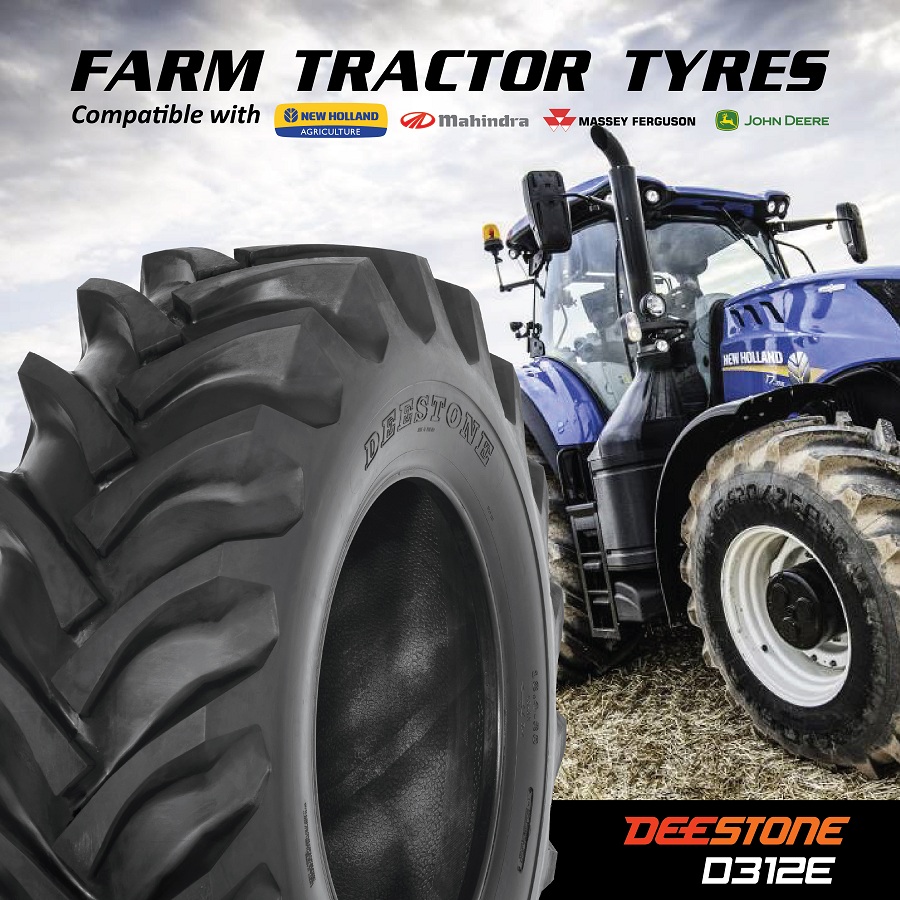 Deestone D312E Rear Farm Agricultural Tyres
The Deestone D312E is a rear farm agricultural tyre developed by Thailand's largest Thai-owned tyre manufacturer, Deestone for farm tractors commonly used in agriculture and farming sectors.
From general farm tasks to pulling farm equipments, the D312E farm tractor tyre excels at providing rugged traction and excellent stability with its specially designed 45-degree deep lugs and tough nylon casing.      
Deestone D312E Tyre
The bias-ply D312E is part of Deestone's line of affordable quality off-the-road (OTR) tyres that are globally certified by ISO (International), DOT (USA), E-mark (EU), TUV NORD (Germany), SIRIM (Malaysia), MS (Malaysia) and more.
Productive and reliable, the D312E is distributed in West Malaysia by Malaysian tyre distributor, Cooperteams Distribution and is the ideal cost-efficient tractor tyre for major OEM tractor brands such as New Holland, Mahindra, Massey Ferguson and John Deere.   
Solid Traction
The Deestone D312E's special 45-degree deep lugs equip tractors with high traction and self-cleaning property.
 
Strong Casing
The Deestone D312E features strong nylon casing to provide excellent durability and stability for agricultural operations.
 
Common OEM-Compatible Sizes
18.4-34 DEESTONE D312E
New Holland TS6.110
Massey Ferguson 698 / 1150
John Deere 3330
McCormick Intl X10.90M
Belarus 5270 / 5280
CaseIH Farmall 120A / 130A
Ford 6610

18.4-30 DEESTONE D312E
New Holland TT4.80 / TT4.90
New Holland TL75E Exitus / 8030 S100
Mahindra 8560
Massey Ferguson 2670
John Deere 5725
Oliver 1465

16.9-28 DEESTONE D312E
New Holland TT55
Mahindra 6000 / 6520
John Deere 5303
Eicher 6100 Euro Power

14.9-28 DEESTONE D312E
New Holland TT45 / TN65
New Holland Workmaster 55 / 60
Mahindra 5530
McCormick Intl X10.55M
CaseIH Farmall 55A
Malaysia's One Stop Tyre Solution
Deestone D312E is available from Cooperteams Distribution, an authorized Malaysia Deestone tyre distributor based in Shah Alam, Selangor, West Malaysia. We distribute and supply the full range of Deestone tyres throughout central West Malaysia including Kuala Lumpur and Selangor; southern West Malaysia including Johor, Negeri Sembilan and Melaka (Malacca); northern West Malaysia including Perak, Kedah and Pulau Pinang (Penang); and eastern West Malaysia including Pahang, Kelantan and Terengganu:
Deestone passenger car radial (PCR) tyres
Deestone SUV/4x4 tyres
Deestone light truck (LT)/ultra-light truck (ULT) tyres
Deestone truck & bus radial (TBR) tyres
Deestone farm & agricultural implement off-the-road (OTR) tyres
Deestone industrial tractor/implement off-the-road (OTR) tyres
Deestone ATV, golf cart, go cart & wheel barrow specialty off-the-road (OTR) tyres
Browse our Products or Contact us for more details on Deestone products.
About Deestone
Deestone was founded in Thailand in 1977 and is today, the country's largest Thai-owned tyre production facility with tyre distribution in more than 120 countries worldwide. Deestone manufactures a wide segment of quality tyres – from passenger tyres to truck and bus tyres and off-the-road tyres – to meet market-specific requirements with high production standards and global certifications.
Links
https://www.deestone.com/Tyre-Search/Bias/OFF-THE-ROAD/REAR-FARM/D312E.a...
http://www.tractordata.com/