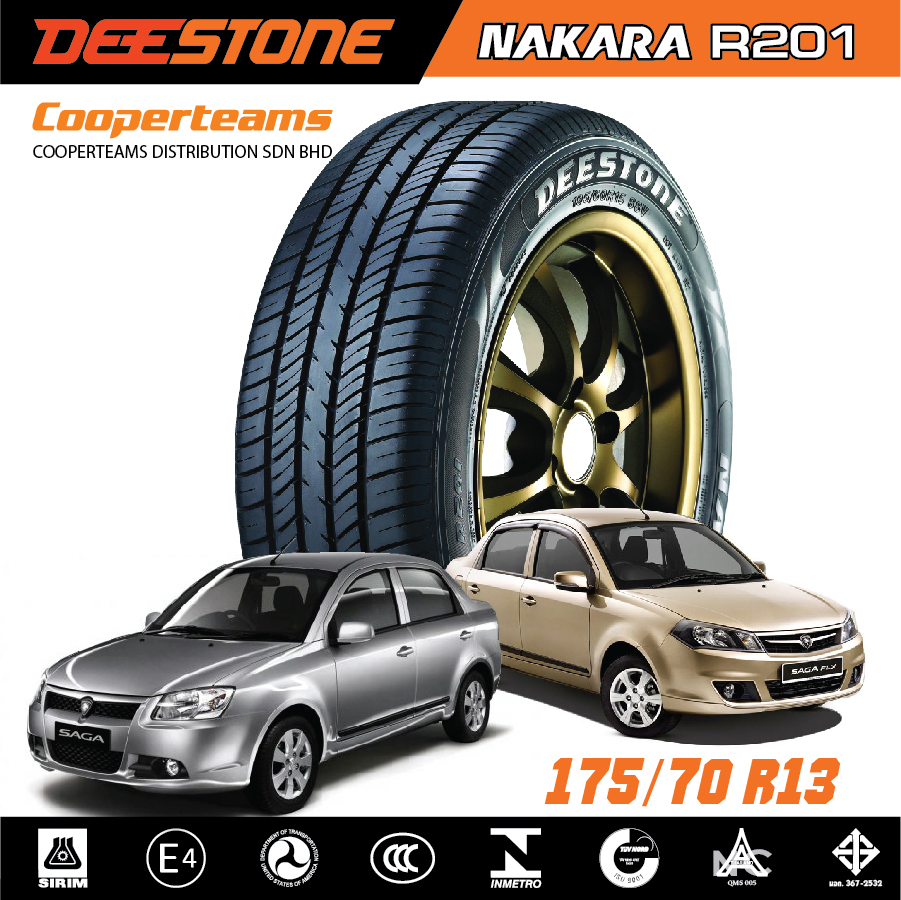 Affordable Deestone 175/70 R13 Tyre for Proton Saga
From its historic unveiling as Malaysia's first national car in 1985, the iconic Proton Saga has continuously driven the market for personal mobility by putting over 1.9 million consumers on the road with excellent value proposition that suits all levels of community needs.    
Fitting the needs of a large swathe of legacy Proton Saga vehicles still in service today, the Deestone Nakara R201 provides affordable 175/70 R13 passenger car radial (PCR) tyre for the popular 2nd generation models such as Saga FLX Standard and Saga BLM N-Line/B-Line.
Reliable Grip
The Deestone Nakara R201 incorporates unique pattern design comprising independent inner tread blocks for better braking performance and water-repellent main grooves with added shoulder grooves to prevent aquaplaning for enhanced wet weather safety.
Improved Response
The Deestone Nakara R201 features a wide centre rib that maximizes road surface contact for greater steering responsiveness and handling stability, while rounded shoulder design offers assured driving performance with improved grip especially during cornering.
Ride Comfort
The Deestone Nakara R201 utilizes jointless spiral overlay construction for smoother driving and implements noise-cancelling variable tread pitch sequence design to diffuse soundwaves more effectively through the footprint for a quieter and comfortable journey.    
Malaysia's One Stop Tyre Solution
Deestone Nakara R201 is available from Cooperteams Distribution, an authorized Malaysia Deestone tyre distributor based in Shah Alam, Selangor, West Malaysia. We distribute and supply the full range of Deestone tyres throughout central West Malaysia including Kuala Lumpur and Selangor; southern West Malaysia including Johor, Negeri Sembilan and Melaka (Malacca); northern West Malaysia including Perak, Kedah and Pulau Pinang (Penang); and eastern West Malaysia including Pahang, Kelantan and Terengganu:
Deestone passenger car radial (PCR) tyres
Deestone ultra-high performance (UHP) tyres
Deestone SUV/4x4 tyres
Deestone commercial van/ultra-light truck (ULT) tyres
Deestone light truck (LT) tyres
Deestone truck & bus radial (TBR) tyres
Deestone farm & agricultural implement off-the-road (OTR) tyres
Deestone forklift/tractor/industrial off-the-road (OTR) tyres
Deestone construction/earthmoving off-the-road (OTR) tyres
Deestone ATV, golf cart/buggy, go cart & wheel-barrow specialty off-the-road (OTR) tyres
Browse our Products or Contact us for more details on Deestone products.
About Deestone
Deestone was founded in Thailand in 1977 and is today, the country's largest Thai-owned tyre production facility with international distribution in more than 120 countries worldwide. Deestone manufactures a wide segment of quality tyres to meet market-specific requirements with high production standards and global certifications including ISO, DOT, E-mark, TUV NORD, SIRIM, MS and more.
Links
https://www.deestone.com/Tyre-Search/Radial/RADIAL-PCR-UHP/R201.aspx#.Y_...